Kid Collector of the Week: Parker from Roy, Utah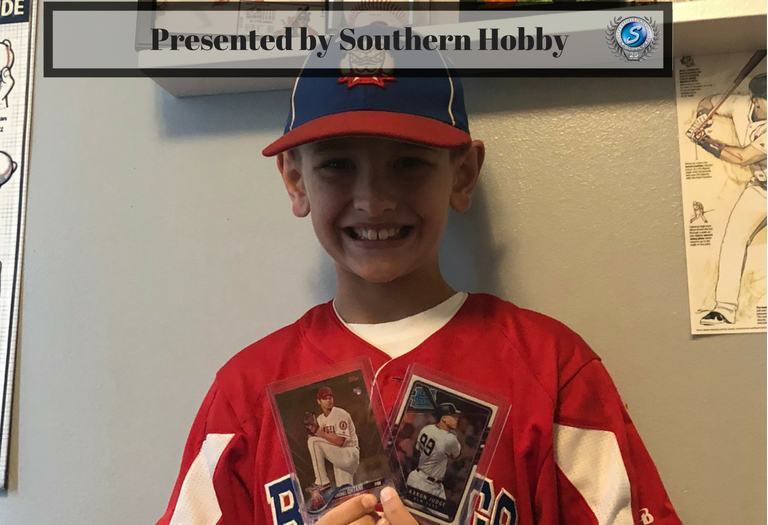 Our Kid Collector of the Week feature will focus on kids from around the country who are deeply involved with The Hobby. Most collectors got involved when they were young and have fond memories of their early years, so we wanted to highlight kids who are just getting their start in collecting.
Kid Collector of the Week is brought to you by Southern Hobby who shares a passion for inspiring the next generation of card collectors.
This week we talked to 10-year-old Parker from Roy, Utah. His favorite local card shop is Clayton's Card shop in Roy. Parker is a passionate baseball collector and an Aaron Judge fan, read his story and if you know of a kid who is a big collector let us know!
BM: How did you get involved in The Hobby?
Parker:  My dad collected and I decided to as well.
BM: How long have you been collecting?
Parker: I've been collecting since 2017.
BM: What do you collect: baseball, basketball, hockey, football, non-sport, other?
Paker: I only collect baseball for now.
BM: What is the first card you remember?
Paker: The Optics Aaron Judge is the first one I remember.
BM: What is the best card you've ever pulled?
Parker: Topps Gold Shohei Ohtani numbered 1412/2018, it was so awesome!
BM: What's your dream card, the one you really really want right now?
Parker:  I would love to pull a 2017 Panini Spectra Aaron Judge Auto, he's my favorite player!
BM: What is something you think that The Hobby could be doing to get more kids your age involved?
Parker: I think there should be more variety of cheaper wax packs for kids. And I think it would be cool to get more autos and game-used stuff in packs.
BM: What's your favorite part about going to your local card shop?
Parker: Opening packs searching for the greatest player Aaron Judge.
If you know someone who would like to be featured in our Kid Collector of the Week series, send an email to sbedgood@beckett.com.