Kid Collector of the Week: Grant from Leesport, PA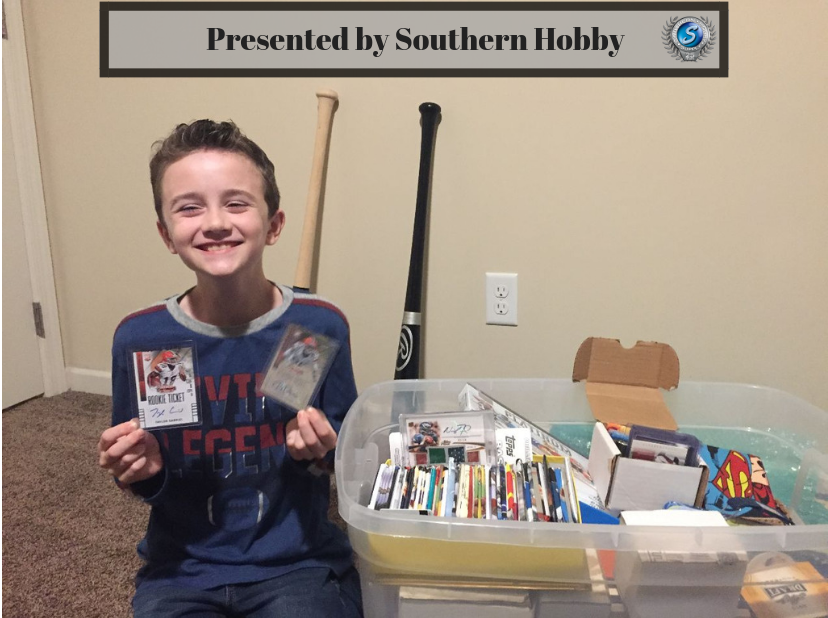 Our Kid Collector of the Week feature focuses on one kid each week from around the country who is deeply involved with The Hobby. Most collectors got involved when they were young and have fond memories of their early years, so we highlight kids who are just getting their start in collecting.
Kid Collector of the Week is brought to you by 
Southern Hobby
 who shares a passion for inspiring the next generation of card collectors.
This week's Kid Collector is 8-year-old Grant from Leesport, PA. His favorite local card shop is S&B Sports in Wyomissing, PA. Grant is holding the first two autos he ever pulled in the photo above, including an auto of Nick Foles.
BM: How did you get involved in the Hobby?
Grant: My dad collects cards so he got me interested in it. It's something fun that we can do together!
BM: How long have you been collecting?
Grant: I started in 2013 so I've been collecting about five years.
BM: What do you collect: baseball, basketball, hockey, football,  non-sport, other?
Grant: The sport I have the most cards of is baseball, but I want to get more basketball and football right now.
BM: What is the first card you remember?
Grant: I remember getting a Zach Ertz card, he plays for the Eagles who are my favorite team.
BM: What is the best card you've ever pulled?
Grant: I have two: A Joel Embiid rookie card & Nick Foles patch, football relic and auto. Those are both awesome!
BM: What's your dream card, the one you really really want right now?
Grant: I have a Zach Ertz card already, but I want an autograph with a patch of Ertz, that would be even better.
BM: What is something you think that the Hobby could be doing to get more kids your age involved?
Grant: Cards with gum like my dad had would be fun. They should also advertise more to kids about it.
BM: What's your favorite part about going to your local card shop?
Grant: Opening the packs and seeing what's inside!