Kid Collector of the Week: Aubrey and Beckham of South Dakota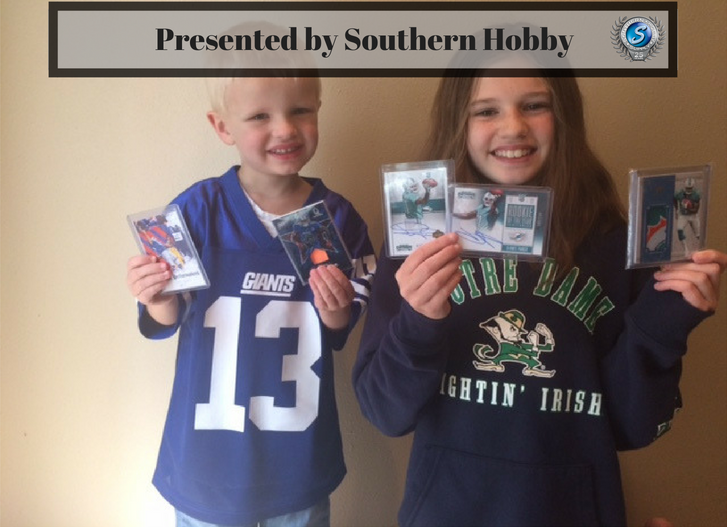 Our Kid Collector of the Week feature will focus on kids from around the country who are deeply involved with The Hobby. Most collectors got involved when they were young and have fond memories of their early years, so we wanted to highlight kids who are just getting their start in collecting.
Kid Collector of the Week is brought to you by Southern Hobby who shares a passion for inspiring the next generation of card collectors.
This week's kids are Aubrey and Beckham, ages 10 and 3, respectively, from South Dakota. The closest local card shop to them is Triple Play Sports Cards in Sioux Falls, SD. Beckham's dad Matthew answered many of the questions for him.
BM: How did you get involved in The Hobby?
Aubrey: My dad was a big fan and I like to do stuff with him so collecting was another way to spend time with him. Once I started I loved collecting.
BM: How long have you been collecting?
Aubrey: Ever since I was 4-years-old, so six years now.
Matthew: Beckham was born about 2 weeks before Odell Beckham's famous one-handed catch, so we started collecting for him shortly after that.
BM: What do you collect: baseball, basketball, hockey, football, non-sport, other?
Aubrey and Beckham: We only collect football for now.
BM: What is the first card you remember?
Aubrey: I remember a 2013 Topps Chrome Pink card.
Beckham: Everything Odell Beckham Jr.!
BM: What is the best card you've ever pulled?
Aubrey: The best card I've pulled was a 2017 Dalvin Cook Autograph card.
Beckham: An Odell Beckham Jr. Game Used Pylon numbered to 25.
BM: What's your dream card, the one you really really want right now?
Aubrey: I really want a 1/1 DeVante Parker Game Used Autograph card. The Dolphins are my favorite team!
Beckham: Odell Beckham Jr. Autograph.
BM: What is something you think that The Hobby could be doing to get more kids your age involved?
Aubrey: Lower the prices of boxes of cards so more kids can purchase. All of the cheap boxes don't have jerseys or autos and for a kid to purchase a nice box is really hard. I think that is why I am not able to open very many boxes.
BM: What's your favorite part about going to your local card shop?
Aubrey: Looking for nice Dolphins' cards and seeing some of the nice cards that they have.
Beckham: Looking for football cards.
If you know someone who would like to be featured in our Kid Collector of the Week series, send an email to sbedgood@beckett.com.