Key Early Sales from 2019 UD Marvel Studios The First Ten Years – Beckett Pricing Insider
Avengers: Endgame has been in theaters for about a month and it's already the highest grossing film of all-time in North America and second globally. At this point, it is slated to pass Avatar before long.
This has been a fitting conclusion to Marvel's 11-year run that produced 22 films and introduced the movie world to characters we'd never seen before on the silver screen. Iron Man, Thor, Captain America, and Hulk were the nucleus, but supporting characters such as Ant-Man, Doctor Strange, Captain Marvel, Guardians of the Galaxy, and Black Panther were also thrown into the mix to create what we now know as the Marvel Cinematic Universe.
The trading card and collectibles industry hitched a ride during this culmination of all things MCU. By the end of 2019, every single MCU film will have had a trading card set devoted to it. It all started with Rittenhouse's Iron Man and Incredible Hulk releases back in 2008 and it will finish up with Captain Marvel and Endgame releases by Upper Deck later this year. Again, another impressive run.
However, the most recent release devoted to the MCU is the 2019 Marvel Studios The First Ten Years by Upper Deck. This is the first product that has assembled the cinematic versions of these characters. Key autographs include Chris Evans, Chris Hemsworth, Tom Holland, and Josh Brolin among others and is loaded with sketch cards.
Here are some recent key sales:
2019 Marvel Studios The First Ten Years Legendary Scripts Autographs #LSCA Chris Evans – $600
Along with Robert Downey Jr., Evans has been the face of the MCU for almost a decade and his autographs are always top sellers on the secondary market.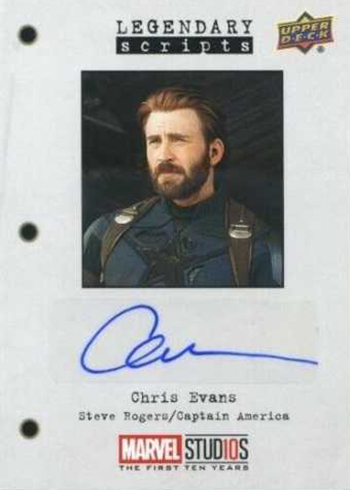 2019 Marvel Studios The First Ten Years Autographed Film Cels #FCAJB Josh Brolin – $500
Even though he was somewhat of a late addition to the MCU, Brolin's Thanos has sealed a cult following among the movie fan base. This is only the second product to contain Brolin autographs so pulling one is still a considerable rarity.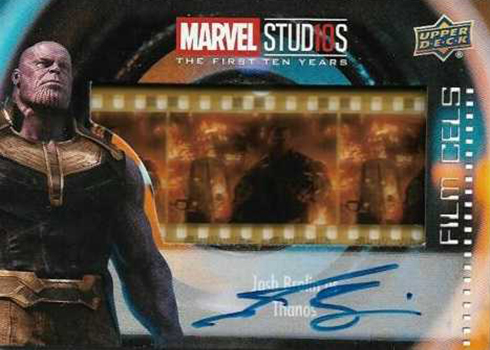 2019 Marvel Studios The First Ten Years Sketch Cards Thanos by Michelle Guerrero – $95
With only a few trading card products under her belt, Guerrero's sketches are becoming a hot commodity on the secondary market. With her unique illustrations and use of color, it's easy to see why.