Looking for a Kevin Durant Rookie Card? They come in many varieties. Some are basic and, even today, don't cost a lot. Others highlight autographs and memorabilia and can cost thousands. The market for these might be limited but so are the print runs.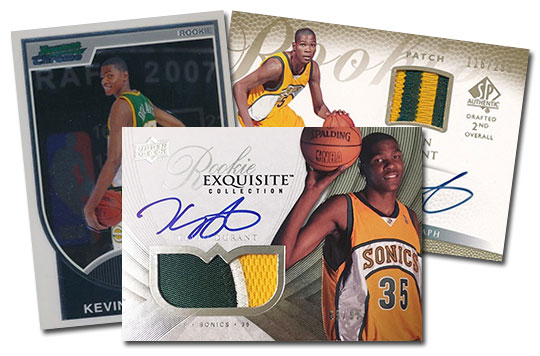 The Kevin Durant Rookie Card choices are numerous, totaling more than 30. Many factors can be taken into consideration when it comes to choosing the one that's best for you. Design, brand and availability are just some of the things to think about.
Upper Deck and Topps shared the NBA license in 2007-08, Kevin Durant's rookie season. However, Upper Deck signed the second overall pick to an exclusive autograph and memorabilia deal. This meant that while Topps could include Durant in their products, only Upper Deck could use his signature and swatches.
Although Kevin Durant Rookie Cards came out in 2007-08 products, he has some that are older. The 2006 Topps McDonald's All-American set showcases the superstar as a high schooler. This includes some autographs that were signed and handed out at the event, much like the AFLAC line included in Bowman Baseball. However, with Durant's exclusive Upper Deck deal, none were included in packs. Some of the autographs still exist on the secondary market and are among the most coveted Kevin Durant cards of all-time. Because of potential counterfeiting issues, professionally authenticated autographs may be the route to go for these, though.
2006-07 Topps Finest and 2006-07 Upper Deck Chronology also included XRC redemptions for Kevin Durant cards (and other draft picks). The final cards, including autographed versions for Chronology, came out the following year.
But which are the most valuable? Take a deep-dive into all the choices that are out there as we count down all of the Kevin Durant Rookie Cards.
Kevin Durant Rookie Card Rankings
Rankings are based on the Beckett Basketball Price Guide and Database, where subscribers can find specific values. For this list, only cards with the RC tag in the database are included. Inserts and parallels are not.
---
---
---
---
---
---
---
---
---
---
---
---
---
---
---
---
---
---
---
---
---
---
---
---
---
---
---
---
---
---
---
Comments? Questions? Contact Ryan Cracknell on Twitter @tradercracks.