Kentucky Derby races onto magazine shelves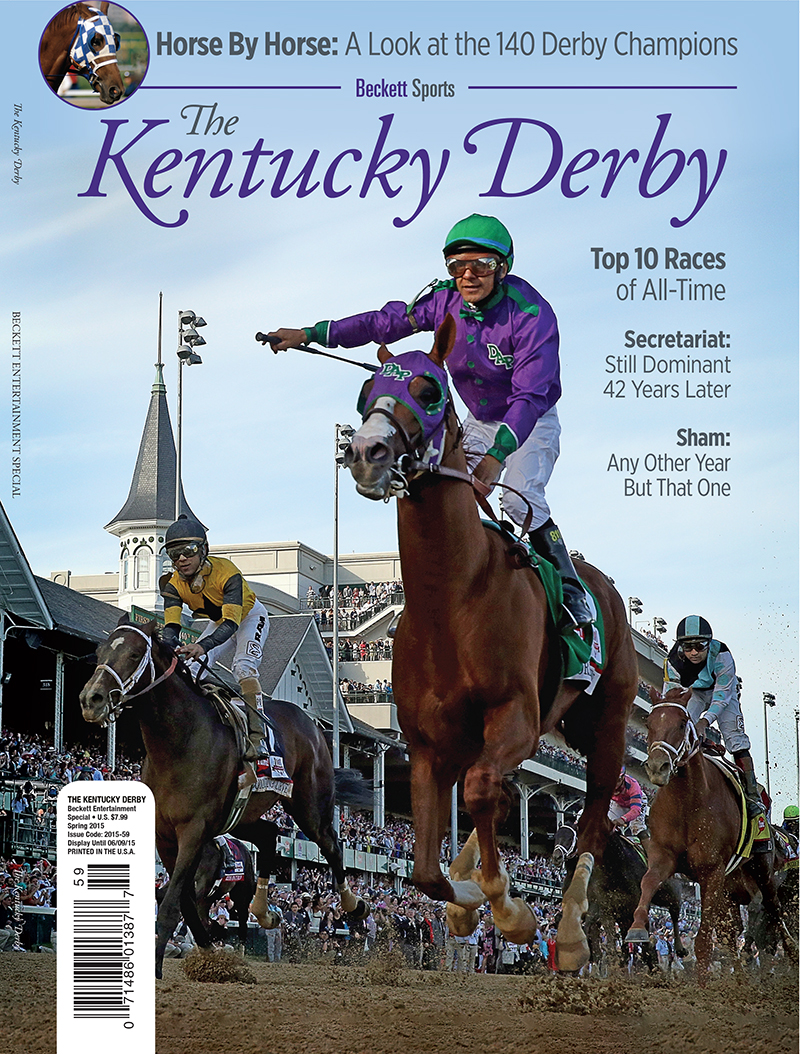 With the 141st running of the Kentucky Derby set for May 2 at Churchill Downs, Beckett Sports has released a definitive magazine for Kentucky Derby followers titled, simply, The Kentucky Derby. The cover of the publication features jockey Victor Espinoza atop 2014 Derby winner California Chrome.
Espinoza is scheduled to be the jockey on 2015 Kentucky Derby favorite American Pharoah, having ridden the 3-year-old to a lopsided win in Saturday's Arkansas Derby — the final tune-up before the Kentucky Derby, which remains the first leg of the Triple Crown series.
No horse has won the Triple Crown — the Kentucky Derby, the Preakness Stakes and the Belmont Stakes in a period of six weeks — since Affirmed did so in the spring of 1978.
Beckett's Kentucky Derby magazine includes a look at each of the previous 140 winners – from Arstides in 1875 to California Chrome last year.
"That section captures the history of the Derby in small, but engaging, capsules," said Mike Payne, Beckett Editorial Director. "Everything you ever wanted to know about those Derby races from the past — winner, winning time, jockey or simply what was going on that day — is there."
Beckett also covers the Top 10 Kentucky Derby races of all-time, counting down from No. 10 to No. 1. Also look for feature stories on Secretariat, Sham, Churchill Downs and the Derby's role in Pop Culture.
Beckett's The Kentucky Derby is 96 pages of vintage and recent imagery for $7.99 and can be found on shelves now, or by ordering through BeckettMedia.com.