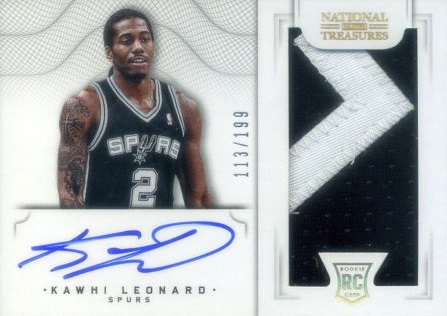 By Susan Lulgjuraj | Beckett Basketball Editor
With all the big names in the NBA Finals, the one that emerged as the series MVP didn't overtake the bulk of the conversation. Nope, instead LeBron James, Tim Duncan, Dwyane Wade were the ones always mentioned.
Perhaps someone should have been watching the 22-year-old small forward because Kawhi Leonard gave one of his best basketball performances in the NBA Finals to help the San Antonio Spurs defeat the Miami Heat.
Leonard was selected 15th in the 2011 NBA Draft. Some teams that passed over him probably wish they could have the developing star on their team. Instead, the Spurs drafted the player they hope could replace Duncan one day.
Leonard is one of the youngest players to be named the Finals MVP. He averaged 17.8 points, 6.4 rebounds, 2.0 assists, 1.6 steals and 1.2 blocks in the series, shooting 61.2 percent from the field and 57.9 percent from behind the 3-point line.
Along with Leonard getting a trophy, collectors who had been hanging on to his cards saw significant movement as their investment paid off. There were reported sales of Leonard's cards selling for hundreds of dollars.
A 2012-13 Crown Royale Rookie Silhouette autograph patch card numbered to 25 sold for $811 on eBay the night before the Spurs took home the title. On June 3, the same type of card sold for $350 and on May 12, another sold for $202.50 – commencing a drastic hike in the immediate worth of his cards.
Leonard's success has translated to his cards, and he's in a day where many of his Rookie Cards are signed or feature a piece of memorabilia. The autograph cards have seen a big bump sales even if they aren't from his rookie year. Even inserts and parallels are selling for several dollars.
Leonard's card values are going to experience a post-championship bump. However, only time will tell if the cards stay in that range. By many reports, Leonard is a quiet, hardworking player. But he did show a little emotion after San Antonio won the championship.
Perhaps another title or two wouldn't hurt.
Key collectible cards
2012-13 Panini National Treasures #114 Kawhi Leonard JSY AU/199 RC
2012-13 Panini Flawless Rookie Autographs #11 Kawhi Leonard
2011-12 Fleer Retro 1988-89 Autographs #KL Kawhi Leonard
2012-13 Immaculate Collection Jumbo Patch Autographs #LE Kawhi Leonard/75
2011-12 SP Authentic Autographs #27 Kawhi Leonard
Susan Lulgjuraj is an editor at Beckett Media. You can email her here with questions, comments or ideas. Follow her on Twitter here. Follow Beckett Media on Facebook and Twitter.