Kawhi Leonard Cards Soaring – Beckett Pricing Insider
The Eastern Conference Finals features a faceoff between two of the hottest players in all of hobby-dom. While Giannis Antetokounmpo card prices have been skyrocketing for some time now, Kawhi Leonard values have shot up just recently. They have been propelled by stellar playoff performances highlighted by his last-second, series-clinching shot against Philadelphia.
Here are some notable Leonard card sales from the past few weeks:
1. 2012-13 Panini Prizm #209 Kawhi Leonard RC – $90
Analysis of Prizm RC movement has become the gold standard method in determining player hotness. With raw sales approaching $100 and 9.5 gems nearing $200, Leonard's Prizm RC has shot past Anthony Davis in becoming the most valuable rookie card in the set. Keep an eye on this one, particularly if Toronto advances to the Finals.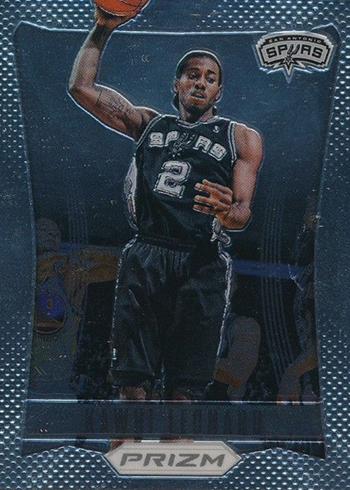 2. 2013-14 Panini Prizm Prizms #143 Kawhi Leonard BGS 9.5 – $121.50
Second-year Silver Prizm prices are rising, and collectors are seeking out this Leonard version as a relatively affordable option compared to his pricey rookie Prizm parallel. This sale from early May could prove to be a bargain as only two Gem Mint 9.5s exist according to the current BGS Pop Report.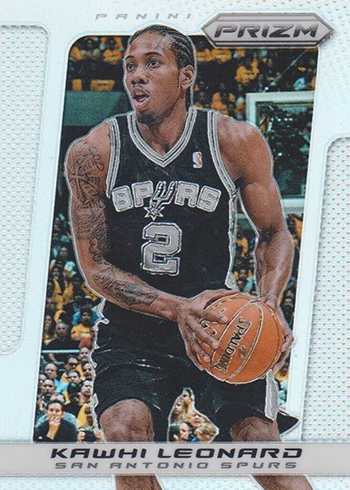 3. 2012-13 Panini National Treasures #114 JSY AU /199 RC – $5,400
This is a record raw sale according to Beckett market data, and ungraded versions are not common as most copies have made their way into grading company slabs. Collectors are looking to capitalize on Leonard's wave of popularity with many of these popping up for sale. Asking prices on the rise.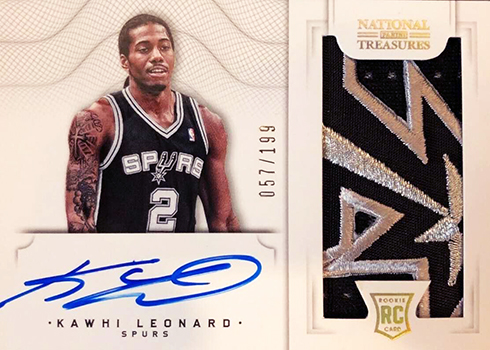 4. 2018-19 Panini National Treasures Treasured Tags Autographs – $1,500
Here's a one-of-one gem from the recently released 2018-19 Panini National Treasures. Giannis Antetokounmpo, Kevin Durant, Kobe Bryant, and Damian Lillard are other heavyweights appearing in this desirable but tough-to-come-by ten-card insert set. Toronto fans are hoping this isn't the only year Leonard appears in a Raptors uniform.