Kareem Abdul-Jabbar to auction his memorabilia for charity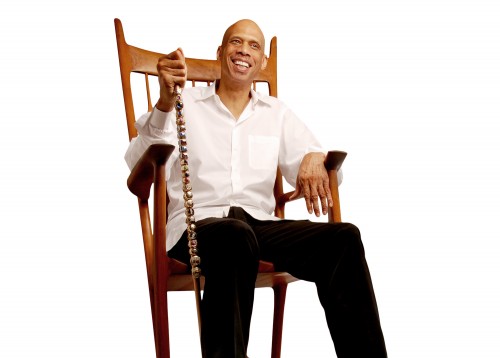 By Stephen Laroche | Beckett Basketball Editor
Basketball legend Kareem Abdul-Jabbar is auctioning off his vast collection of personal memorabilia to benefit his charity, the Skyhook Foundation.
Starting soon, the first group of items will be on the block for fans and collectors to bid on. Slated to be sold off in groups, the first items relate to his Farewell Tour which culminated with a memorable Farewell Ceremony that took place before the Los Angeles Lakers defeated the Seattle SuperSonics on April 23, 1989. Among the highlights in the auction are a rocking chair that was presented by the Charlotte Hornets and a piece of the parquet floor from Boston Garden that came from the Celtics via Red Auerbach.
Approximately 400 pieces of basketball history will eventually go up for sale and at this time, collectors can pre-register at www.kareemabduljabbar.com/auction to receive further information as if becomes available. There is also a video where Abdul-Jabbar speaks about the personal value some of the items hold.
Beckett Basketball was able to get some questions answered by Abdul-Jabbar about the auction along with hearing his thoughts about his first trading card appearance and signing autographs.
Beckett Basketball: What spurred your decision to put parts of your memorabilia collection for sale via auction?
Kareem Abdul-Jabbar: The Skyhook Foundation, which takes kids out of the city to experience the outdoors while learning about science, is my main motivation. I've been fortunate enough to be able to have the kind of successful career that allowed me to collect all these wonderful pieces. However, when I think about how many kids could be attending camp instead of having these pieces sit on shelf, it's an easy decision.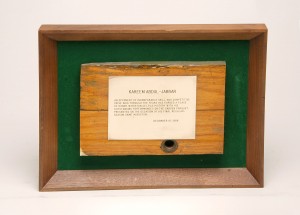 Beckett: Not every athlete chooses to hang on to memorabilia during their career. Did you ever expect to amass such a large collection?
Abdul-Jabbar: I was fortunate because the league sent my trophies directly to my folks' home in New York City, so I didn't realize just how huge the collection was becoming. My mom took such loving care of everything that all the pieces remained in perfect condition.
Beckett: The first group of items focus on your Farewell Tour from the 1988-89 season. Is there a specific piece or pieces that have strong sentimental value to you?
Abdul-Jabbar: One of the items I got was a rocking chair, a joke about me retiring to a life of sitting around whittling while watching tv shows, I guess. But whenever my mom came to visit me, she loved sitting in it and rocking back and forth and knitting. That's the piece I have the most sentimental attachment to.
Beckett: Can you provide any hints regarding future items that collectors and fans can expect to see at auction in the near future?
Abdul-Jabbar: All the items have some special meaning to me, either because they're related to a particular NBA event or because I used it in my daily life. Because each item has significance to me, I hope they will have significance to others.
Beckett: Are there any items that are destined to remain part of your permanent personal collection?
Abdul-Jabbar: Actually, it's hard to part with most of the items because they have so much meaning to me. But I keep thinking about how much this will help the Skyhook Foundation, it becomes a lot easier. Still, there are some items too personal to part with.
Beckett: What kind of positive impact do you feel this auction will have for the Skyhook Foundation?
Abdul-Jabbar: Tremendous impact. With the cooperation of the Los Angeles Unified School District, we hope to bring a lot more fourth and fifth graders out of the city and give then the opportunity to have fun in the outdoors while learning more about science. Right now we have a three-year waiting list. We hope the auction will allow us to add even more kids and programs to the curriculum.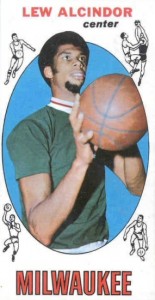 Beckett: Your first trading card came out during your first NBA season. Do you remember posing for the Topps photographer and what was your reaction the first time that you saw yourself on cardboard?
Abdul-Jabbar: The first trading card I posed for was around '69. The NBA hadn't finalized a deal with Topps, so we had to wear our uniforms backwards! That's why you see some ill-fitting uniforms on some of the players. The deal was completed by the following year so we all looked a lot better. The first time I saw myself on a trading card was a mixture of pride and disbelief. I was happy to be in the same company as all the athletes whose cards I had collected as a kid. But there was also a vague feeling of responsibility. Realizing other kids would be holding my card, I wanted to live up to their expectations.
Beckett: Do you feel that the demand for your autograph continues to grow with time and what are your thoughts about signing for fans today compared to your playing days?
Abdul-Jabbar: I can't tell whether or not it's growing because it seems like I'm always signing autographs. When I was younger, signing autographs was more of an obligation. Now it's more gratitude for fans still thinking the best of me despite some rocky press in the past, and for still appreciating me as an athlete, even after all these years. These days getting an autograph is often just an ice-breaker for fans to tell me their story of how our lives intersected. It's actually quite touching.
Beckett Basketball: What are your thoughts about signing autographs at trading card shows or private signings?
Abdul-Jabbar: For a lot of retired athletes, it's a great opportunity to have a mini-reunion where we can just kick back and catch up each other's lives. It's also fun to meet fans in a setting where they can talk sports, past and present. There's also a cool nostalgic atmosphere for fans and players alike as we reminisce and relive our glory days and they talk about the memorable moments that made them lifelong fans.
Stephen Laroche is the editor of Beckett Hockey, Beckett Basketball, and Beckett Sports Card Monthly magazines. Have a comment, question or idea? Send an e-mail to him at slaroche@beckett.com or follow him on Twitter @Stephen_Laroche.