Kane-Do Attitude: Matt Wilson's Patrick Kane Collection
Meet Matt:
"Hi, I'm Matt Wilson. I'm a 29-year-old from Belleville, Ontario, where I work as an automotive detailer. I'm very passionate about detailing and am very particular when cleaning people's vehicles. In my spare time, I enjoy work-ing out, and playing hockey and basketball with my Special Olympics teams. I also love bowling, and playing my PS4 when I have some down time."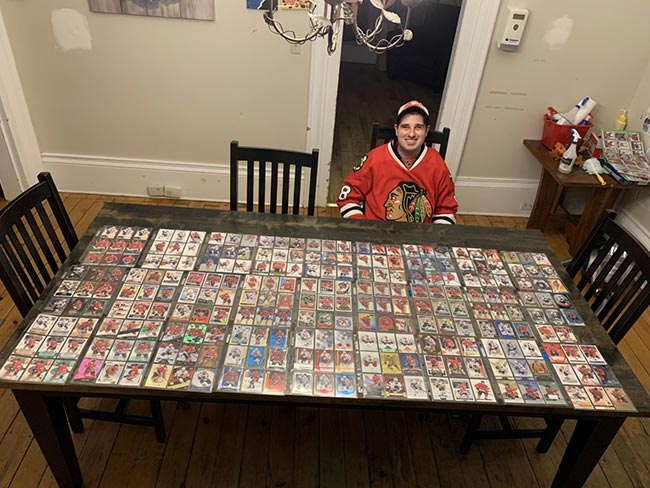 Getting Started:
"I started collecting hockey cards in 2007, when I was 16-years old. My grandfather was the one who got me into hockey cards when he gave me most of his collection from the '90s. I found a lot of old players like Wayne Gretzky, Brett Hull, and Jeremy Roenick, which was pretty cool. My grandfather has always been a huge supporter of my hobby. He has purchased and gifted me many cards over the years. I'm extremely thankful that we can share the love of hockey together. I enjoy calling him or showing him the cards I've found so we can share the excitement together."
The Collection:
"I'm a big Patrick Kane fan! I started collecting Kane in 2007-08, his rookie year. I now own 460 of his cards, and counting."
Why Kane?
"I saw him play his junior hockey for the London Knights in 2006-07 and thought he was an awesome player. There was lots of talk that season that he might be picked first overall. I was so excited when I watched the draft and he was the first pick. I never missed a game on TV back then, and I still don't now. There's never a dull moment when he's on the ice. Watching him play was the reason why I started collecting cards in the first place."
Favorite Cards:
"My top three favorite Patrick Kane cards are the 2007-08 Upper Deck Young Guns RC, 2009-10 Be A Player Autographs #S-PK and 2015-16 Upper Deck Day With The Cup #DC20."
Personal Shrine:
"My bedroom is completely decked out in Chicago Blackhawks fan gear. My bedding is all Blackhawks and I have special cards on display in my room. I was also extremely lucky in the past to meet another Chicago Blackhawks player, Andrew Shaw, in Belleville at the car wash I used to work at. I have a framed photo of the two of us standing with the Stanley Cup."
Family Matters:
"What makes collecting fun for me is when I go home to see my grandfather. Every time I visit, we go on eBay to look for more Patrick Kane cards to add to my collection. I love my grandfather a lot, and I'm extremely thankful that we can share the love of hockey together. I also enjoy going to MBA Sports in Belleville, an LCS that has tons of hockey, baseball and basketball cards. I could spend hours in there looking. I love opening packs."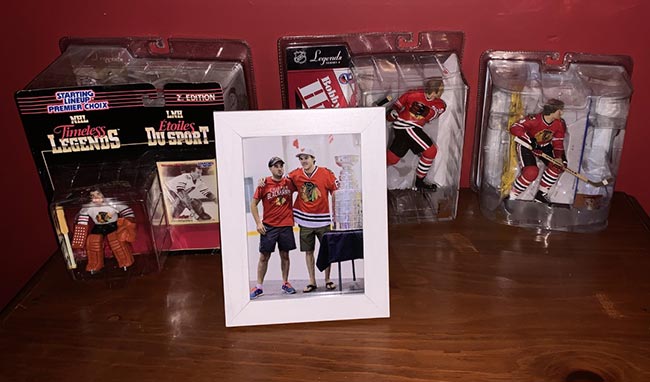 Challenges of Collecting 88:
"Kane is a popular player, so there is always competition for his cards, but I think I've done fairly well so far. It can be challenging to find his higher valued cards, but I'm determined to continue searching."
White Whale:
"I just want to get a 1/1 card of Patrick Kane, of any kind. This has been my biggest hunt in my card collecting history that I have yet to accomplish. I will continue to search until I'm able to find one.
"I'd also like to meet him in person. We tried to set it up once when the Hawks came to Ottawa, but it didn't work out. I hope I can have that opportunity one day. A signed jersey would be nice, too."
Connect with Matt:
"If you have any Kane cards for trade, you can email me at mattwilson_88@outlook.com."