Junk Wax Journeys: 1991 Upper Deck Baseball
When I look back on my fondest memories, they sometimes get jumbled and mixed in with other memories from different times. I'm 44-years old so remembering what life was like at 14 gets a little hazy at times. But when I stop and go back and look at particular years, and the events within those years, it sometimes surprises me just how much happened during certain 12-month spans.
1991 is one such year. And while 1991 Upper Deck Baseball is one reason why, it's far from the only thing.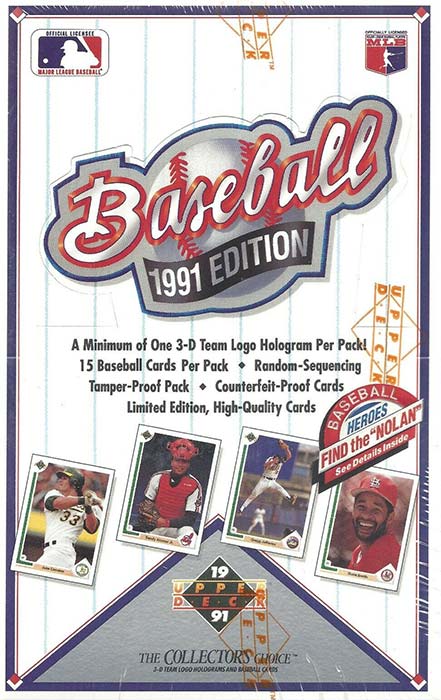 It's impossible to write about how crazy 1991 was without mentioning what was going on in the world around us. The year started off with President George H.W. Bush authorizing military force with "Operation Desert Storm" in mid-January. Exxon agreed to pay $1 billion for the cleanup of the Exxon Valdez Oil Spill in Alaska in March. The Dow Jones closed above 3,000 for the first time ever in April. This was just the first half of the year!
In pop culture, Sonic the Hedgehog was released, MC Hammer was "Too Legit To Quit," LL Cool J's Mama Said to Knock You Out, Metallica released their self-titled Black Album, Anthony Hopkins was playing Hannibal Lector and Billy Crystal was playing a City Slicker on screen. Also, one of my Top 5 all-time movies was released, "Boyz n the Hood."
The big screen wasn't all that was on fire. We also were watching "Full House," "Fresh Prince of Bel-Air," "Seinfeld," "Home Improvement," and "Coach."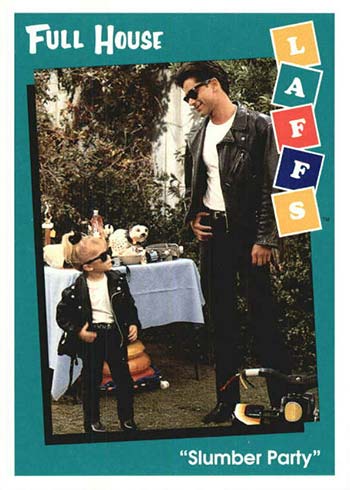 As you can see, 1991 was quite a time to be alive. But wait until you get a load of what was going on in the sports world.
In football, the Buffalo Bills were beginning their run of four-straight Super Bowl appearance. They would lose 20-19 after a missed last-second 47-yard field goal attempt. I was devastated because I really liked the Bills. The biggest highlight of the night may have been Whitney Houston's rendition of "The Star-Spangled Banner." As the U.S. was involved with the Gulf War, it was a moving moment for the country and still lives on as a masterpiece.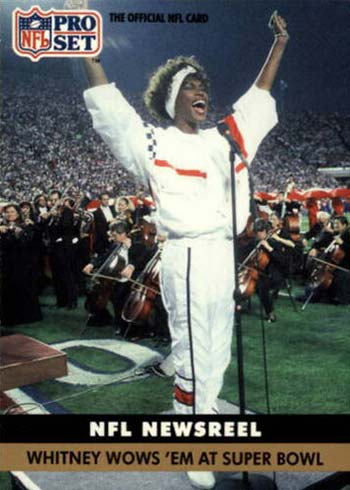 In college basketball, Larry Johnson was the Player of the Year and Duke won the National Championship with Bobby Hurley, Christian Laettner and Grant Hill. In the NBA, the Chicago Bulls would win the first of their six championships in the 1990s with Michael Jordan getting the best of Magic Johnson and the Lakers.
And in baseball, while it is difficult for me to talk about as a Braves fan, we experienced what I believe to be the greatest World Series in the history of the sport. The clash between the Atlanta Braves and Minnesota Twins went all seven games and was epic. Both teams went from "worst to first" from 1990 to 1991. Five of the seven games of the World Series were decided by one run. Three of the games went to extra innings. While it stings when I think of the result, I don't think I've ever had more fun watching baseball.
If all of this weren't enough, we had crossover in the sports as well. Deion Sanders was playing football and baseball and his defensive back teammate with the Falcons, Brian Jordan, was getting ready to do the same in 1992. But one crossover that wouldn't officially begin until 1994 was teased in the release of 1991 Upper Deck Baseball. Michael Jordan participated in batting practice for the White Sox in 1990 and the image was captured on card SP1.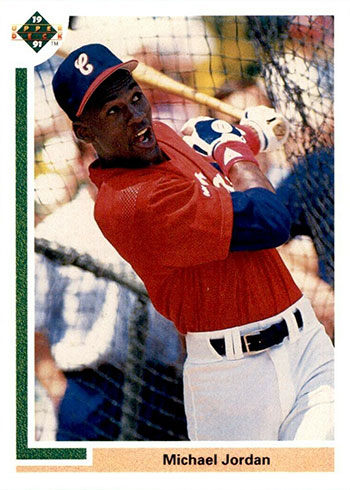 Some of the rookies to make an appearance in 1991 Upper Deck Baseball included a few now in the Hall of Fame: Chipper Jones, Frank Thomas, Jeff Bagwell, and Mike Mussina. And it included a few rookies that we all thought we would get rich from speculating on who did not make the Hall: Phil Plantier and Todd Van Poppel. While the dollars were certainly different, prospecting was just as hot in the early '90s as it is today.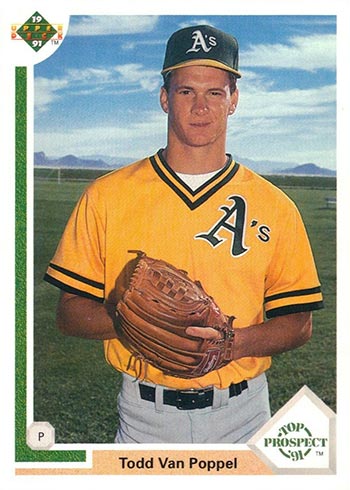 There were plenty of superstars that you didn't have to wait on to pan out as well. The '91 set featured studs like Nolan Ryan, George Brett, Greg Maddux, John Smoltz, Bo Jackson, Ken Griffey Jr., Randy Johnson, Cal Ripken Jr., Wade Boggs, Don Mattingly, and Ron Gant!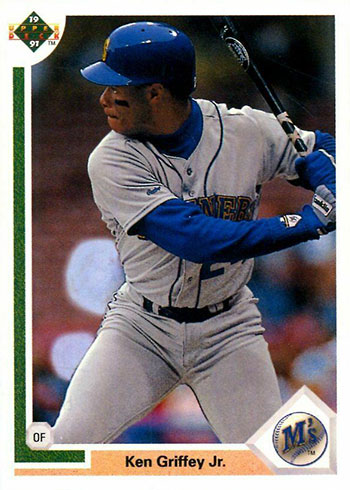 The set itself was 800 total cards with the first 700 comprising of the low series and cards 701-800 making up the high series. Until Stadium Club came along that same year, nobody rivaled Upper Deck in photography and that certainly was the case in the 1991 set. There are some awesome action shots that are crystal clear. I do have a few favorite shots. Nolan and the hat tip is iconic. I will always remember this photo.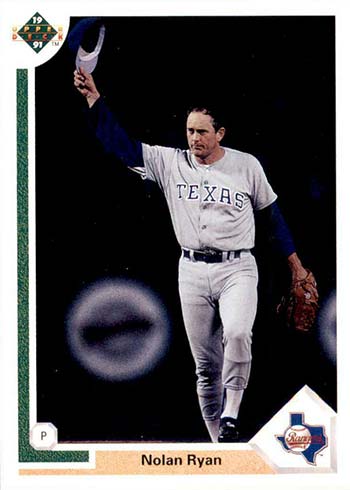 The Todd Zeile photo is just fun and is very early '90s.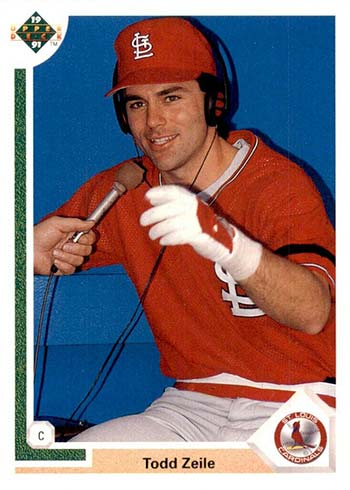 Sammy Sosa is a great shot of a young superstar that was a few years from the biggest stage in baseball.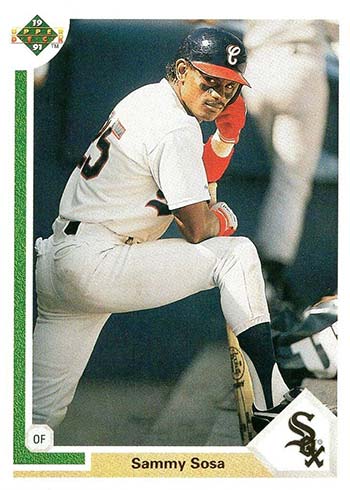 Rickey Henderson is one of a couple of triple exposure cards in the set. There's also a Fernando Valenzuela. This wasn't the first or last of the triple exposures in Upper Deck but it is one that I fondly remember.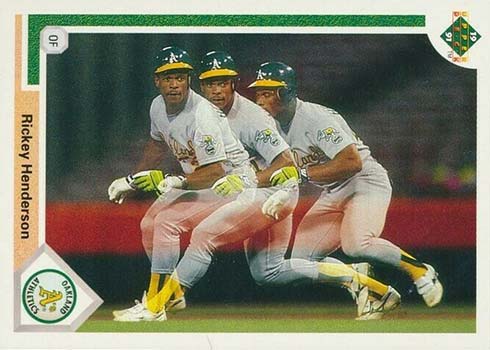 Another Henderson in the set was the card that commemorated breaking Lou Brock's stolen base record.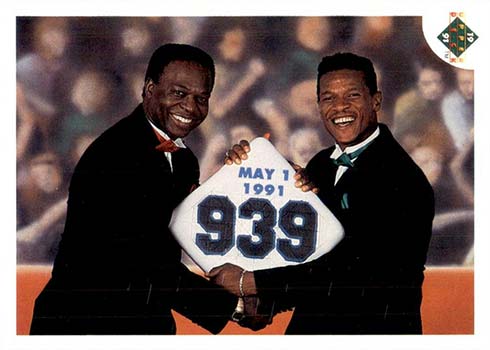 Packs retailed for around $1.25, if I recall correctly. And each full box held 36 packs with 15 cards per pack. Upper Deck was still advertising the Random-Sequencing, Tamper-Proof Packs, and Counterfeit-Proof Cards they introduced in 1989. Each pack came with a 3-D Hologram sticker. My card binder and most of my school notebooks were covered with these shiny stickers.
While 1991 Upper Deck experienced a lull for much of the 2000's, it has recently seen a resurgence. This has been due to some of the players making reaching the Hall of Fame, but mostly it's due to the chase for the Michael Jordan SP1. The short print card was not included in the base set. But the possibility of pulling the Jordan chase card recently pushed unopened low series boxes up to as high as about $100, however they appear to have peaked.
There was also the long-shot possibility of finding an autographed Nolan Ryan "Baseball Heroes" insert in low series packs.
Upper Deck card backs were the best in the early '90s as well. There was a full-length photo that took up about two-thirds of the card. This particular one always interested me because of the shirt Canseco is wearing. It says "Leave Me Alone."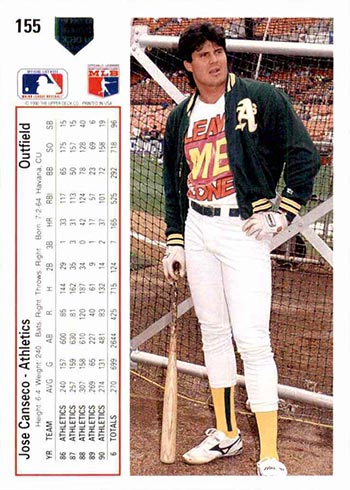 Speaking of Canseco, the Ozzie Canseco was another huge chase card for a time. Ozzie Jose's twin brother. The card featured both brothers and I always thought it would go down as one of the greats.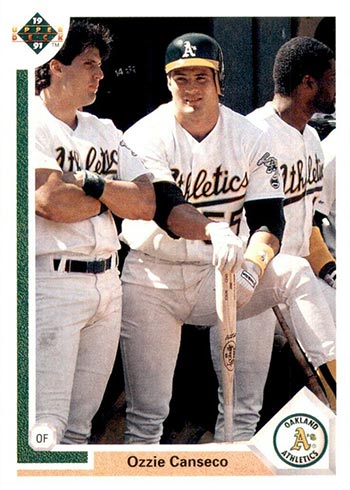 No late '80s or early '90s baseball set was complete for me without the big smile of Ozzie Smith. I will always love "The Wizard" and this card makes me smile even today.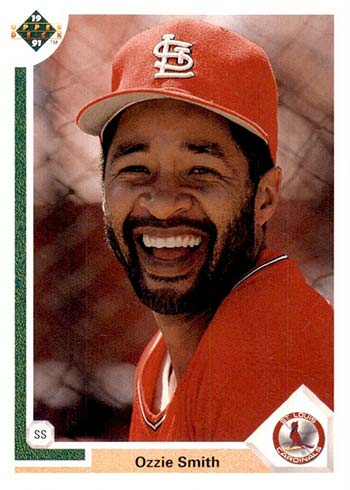 We may never have another 1991, but we're seeing some great things right now. Hopefully, one daywe can look back at baseball cards from 2021 with the same fondness that this set brings.