Junk Wax Journeys: 1989 Fleer Baseball
I was 12 years old in 1989. I have always made clear to readers that it may be the best year in history, at least when it comes to pop culture.
And I was the perfect age to enjoy it. We had both the Nintendo and Sega Genesis to choose from at the time. We were introduced to video games like "Teenage Mutant Ninja Turtles," "Ninja Gaiden," and the now infamous "Friday the 13th." Sports games were really becoming innovative during this time as well, giving us "WWF Wrestlemania," "Magic John-son's Fast Break," and "NFL Football."
Movies in 1989 were great as well: "Field of Dreams," "Batman," "Major League," "Pet Semetary." "Look Who's Talking," and of course "National Lampoon's Christmas Vacation." And don't even get me started on "Roadhouse!"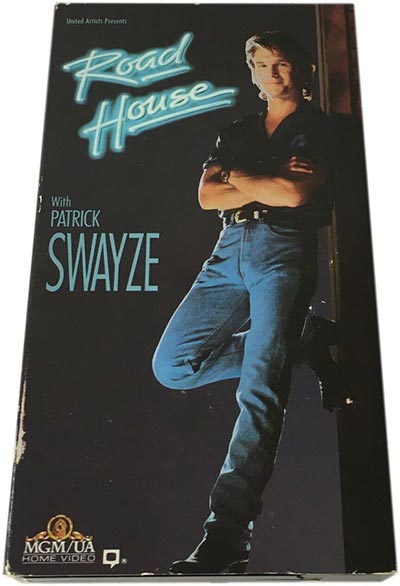 Some of the biggest music legends were riding high at that time, too. Madonna, Michael Jackson, Phil Collins, and New Kids on the Block were HUGE! But one of the most memorable albums of the year (for me) was the self-titled Skid Row release. I still love that album and enjoy it today. Ever heard of Paula Abdul, Milli Vanilli or Tone Loc? All big in 1989.
Imagine playing a couple of hours of "Friday the 13th" and then getting a ride to the movie theater to watch "Major League" while listening to Milli Vanilli on the way.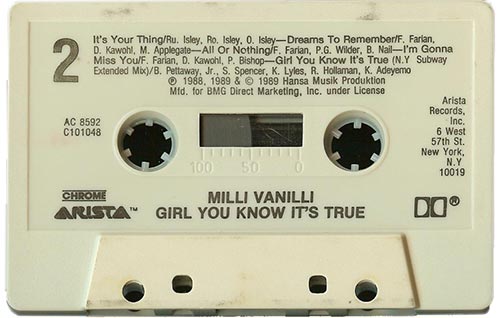 As you might imagine, the other major part of 1989 were baseball cards. I started collecting in 1987, but I believe I hit my peak in 1989. I was buying every set that came out, with the exception of 1989 Upper Deck, which was a little rich for my blood. As much as I loved baseball cards, my parents weren't dropping a whole dollar every time I wanted a pack of cardboard. That statement should tell you all you need to know about collecting that year. Topps, Donruss, Fleer, Bowman, and Score were all somewhere between 45 cents and 50 cents per pack. Upper Deck was double that.
Some of my favorite designs from the past come from '89. The Topps design can be considered iconic for me, while Donruss and Fleer are immediately recognizable today when I'm sifting through boxes. Bowman had issues because of they were oversized cards, and Score is overlooked because 1988 and 1990 are so good. For all the goodness that was around for me in 1989, baseball cards – or, Baseball Cards in my world – were at the top of the list.
Something unique happened with baseball cards in 1989. There was a release being scooped up by kids (and adults) all over the country. Bur it turned out to be more than just the snappy design and photography. Much more, and the world never looked at Billy Ripken the same again. But more of that infamous card in a minute.
First, let's talk about the set in general. 1989 Fleer Baseball was a 660-card set that had a unique gray border with white vertical stripes on the front. The player name was at the top of the card, along with the position and team logo. The photo itself had a border that carried a team color to give some accent to the gray. Finally, the Fleer logo was at the bottom of the card.
The box featured Gary Carter on the front and carried the same gray and white design as the fronts of the cards. There was a lot of yellow as well, in a tip of the cap to the backs of the cards. In two years, Fleer would lose their minds with the yellow! There were also box bottom cards, which were prevalent in the 1980s.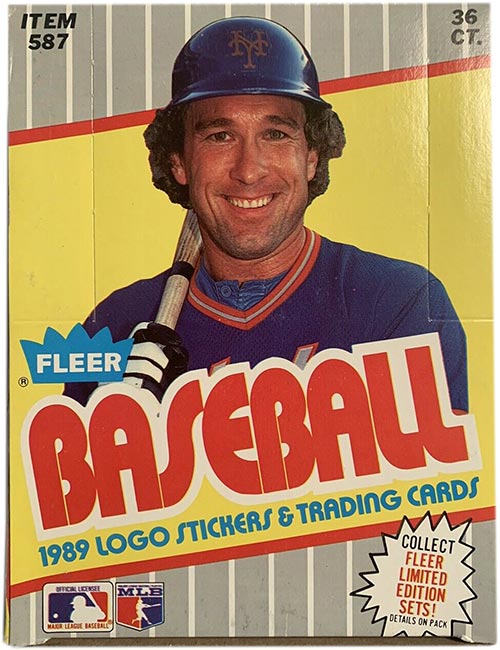 Each box had 36 packs with 15 cards and 1 sticker in each pack. Again, the packs hit you with the gray and white design. On the back of the packs, Fleer offered 10 Fleer Collector's Sheets for $3.50. In addition, there were details on the "1989 All-Star Team" and "For the Record" subsets.
Each pack included a team sticker. Some stickers had one team, while others had four teams. All of the stickers had the blue background and this Expos logo was absolutely perfect for the design. You really can't beat the '80s Expos logo!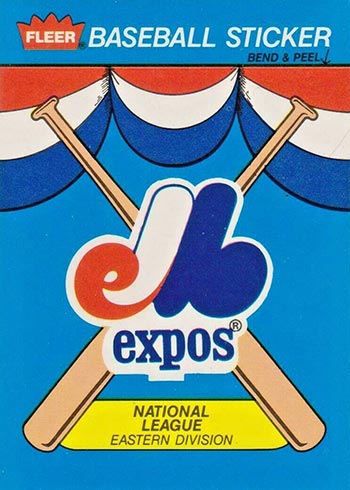 The set is littered with some of my all-time favorites. This group of first basemen was top tier. Mattingly and Clark were perennial All-Stars at this point. And McGriff was still early in what turned out to be a fantastic career.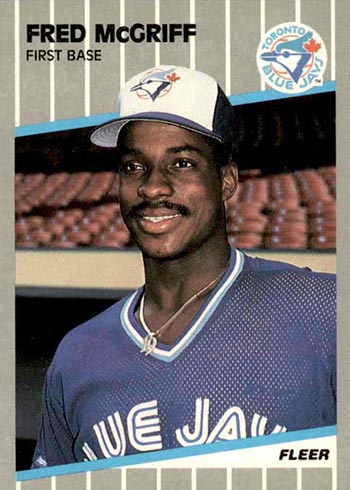 Although I grew up a Braves fan through and through; the Cubs were my second favorite team. Because of the reach of WGN, I could watch their games in the afternoon and then the Braves in the evening. Ryno was a stud at second base. That team ran through some superstars while I was watching them in the '80s. Guys like Andre Dawson, Mark Grace, Greg Maddux and Shawon Dunston.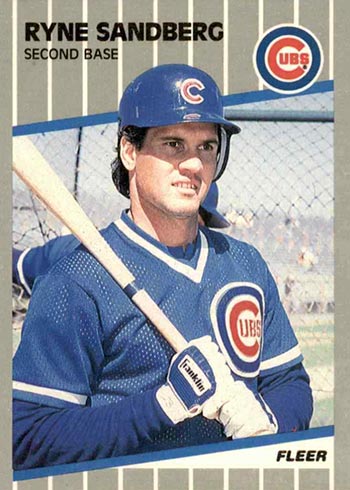 It is no secret to anyone who has ever read my personal work, Ozzie Smith is my favorite non-Braves player. The 1979 Ozzie RC was the first card I remember owning in my collection. I wanted to be "The Wizard" so bad when I was a kid. He was a marvel to watch. If I created a bucket list of athletes I wanted to meet before the end of my life, he would top that list. Barry Larkin was another defensive star and was tremendous with the bat as well. Of course, both Ozzie and Larkin are in the Hall of Fame.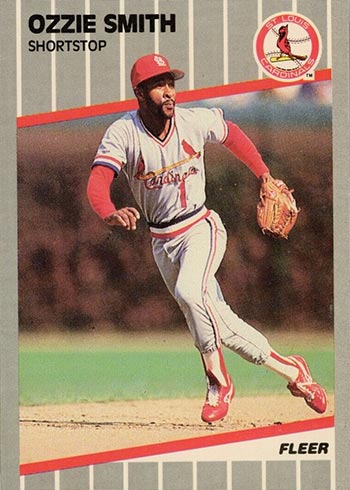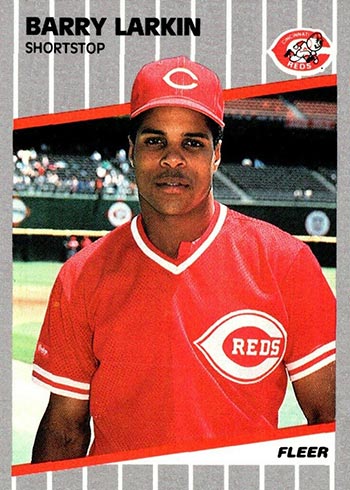 Seeing Larkin, and now Chris Sabo, reminds me of just how good that 1990 Reds team was. Eric Davis, Jose Rijo, Hal Morris, Rob Dibble, and others made this team unbelievably stacked.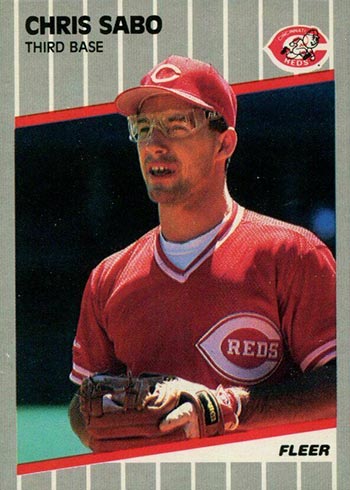 Imagine making the All-Star team as a National League pitcher. Then looking at the A.L. lineup and seeing this outfield. You would have been facing a true all-around hitter in Kirby Puckett, one of the greatest athletes of any generation in Bo, and Mr. 40-40 in Canseco.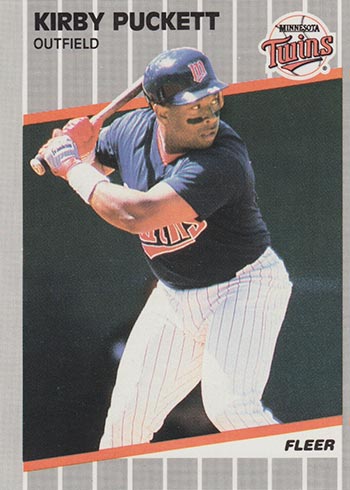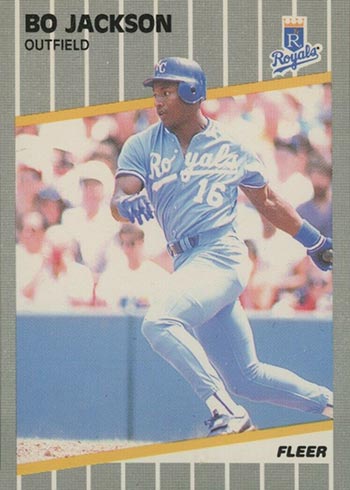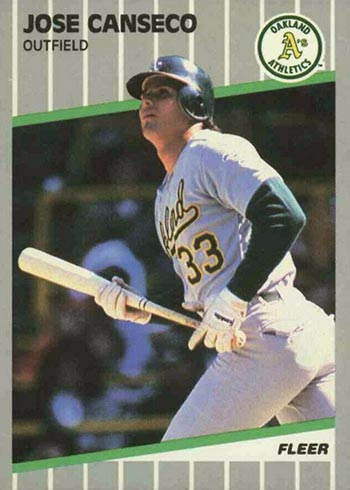 One of the printing errors that could be found in the set was within the California Angels team set. Some of the logos had a white halo (like Chuck Finley) while others had the correct yellow halo (like Wally Joyner).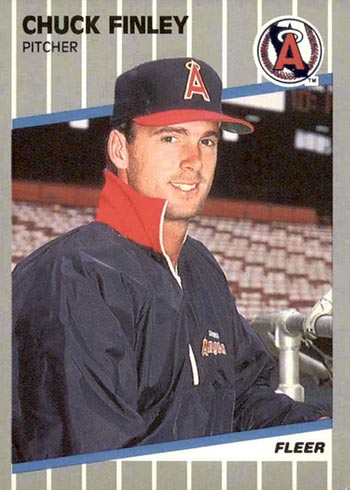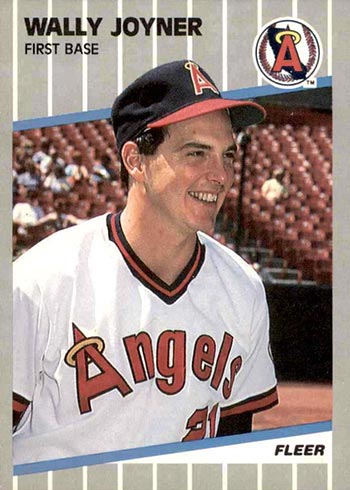 Another printing error could be found in the Oakland A's team set. The border at the top and bottom of the photos had team colors throughout the set. This Don Baylor had the correct green border. But some of the A's had this awkward red border, like Todd Burns.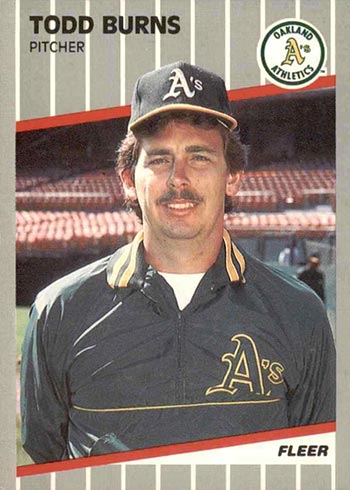 One of the major errors found in the set is a variation of this Randy Johnson RC. Just over Johnson's left shoulder was a large electronic billboard. On this card, the billboard is blacked out and there is nothing to see. In a rarer version of this card, there is a faint advertisement for "Marlboro" that can be seen. I have ripped a ton of 1989 Fleer but I have never personally pulled one.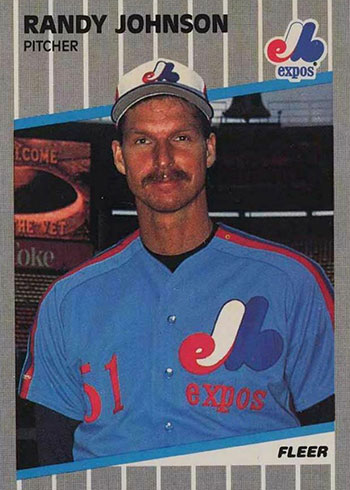 The most notorious error card in the 1989 Fleer set is the Bill Ripken. In fact, it may be the most infamous error card in hobby history. When this card was first released, there was an obscenity written on the bat knob that was very visible. It was a really bad word. There were multiple attempts to correct the error: a white scribble, a white-out, a black scribble, and the above black-out version. The hobby wasn't quite ready for a 12-year old kid pulling a card that has a noticeable obscenity written on it. I have all of the versions with the exception of the rarest, the White Scribble. The card even has its own website.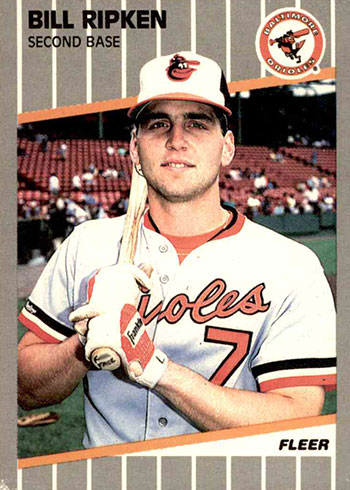 While the Ripken was – and remains – highly sought after, the "Rookie King" in 1989 was Ken Griffey Jr. Fleer was one of the sets where he appeared in the base set. He was in Topps Update and Score Supplemental that year, so he couldn't be found in every regular-season set.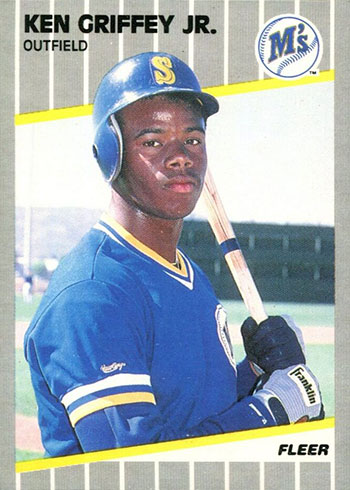 Although 1989 had a great rookie class, the prospect subset left a little to be desired. As in past years, Fleer used a multi-player card for prospects. I ripped a full box and this Kevin Brown was the best I found.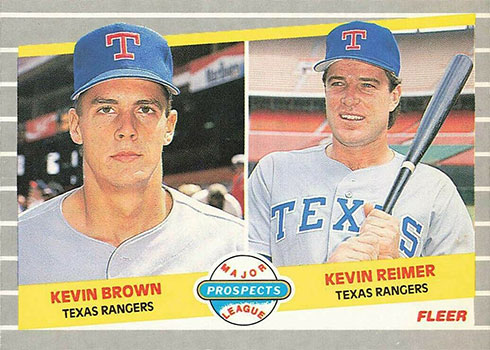 The "Superstar Specials" was loaded with big names. This particular card was my favorite from the set because you couldn't find a bigger baseball superstar in 1989 than Jose Canseco. I even dressed as Canseco in the 7th grade for an "Autobiography Project" where I had to tell my classmates about him. Good times!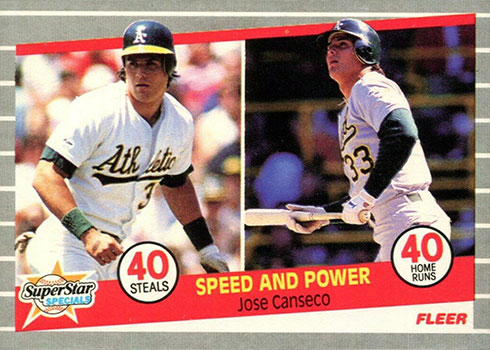 The Fleer All-Star Team design in 1989 was nothing spectacular but it was solid. The green was a nice touch in a set that was mostly gray. Fleer would go back to a green "similar" to this with the 1992 base set.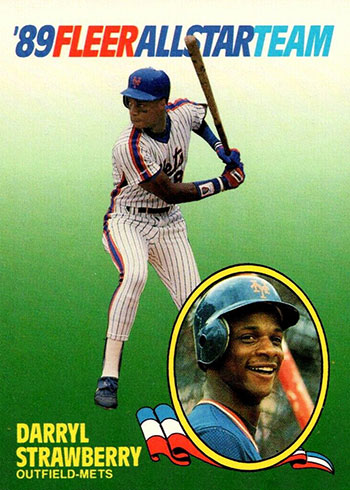 1989 Fleer Baseball is a very nostalgic set to collect. You can still find some boxes that are in good shape and the cards held up better than some others in the late '80s. Centering is always tough because of the vertical lines but most of what I have opened still has good corners and surface.
Boxes can be found for $50-$60 and might be worth the price when considering where some of the modern box prices are trending.
It is just one more reason 1989 was one of the greatest years in pop culture.