Exclusive: A brother's blessing — Junior Seau's brother discusses ongoing art tribute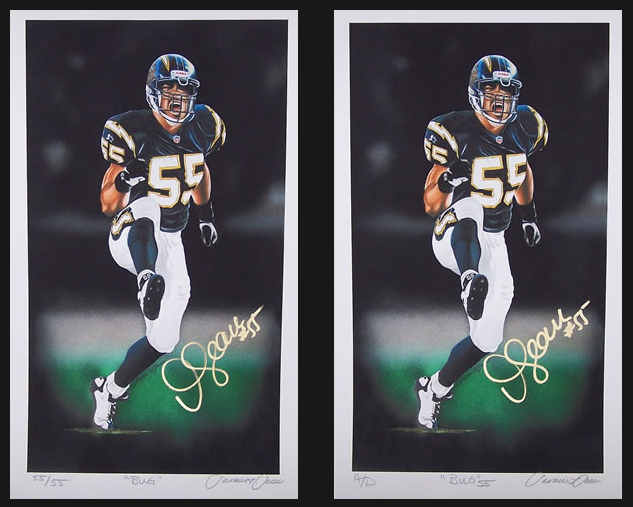 By Chris Olds | Beckett Sports Card Monthly Editor
While Junior Seau became a star on the gridiron and entertained countless fans, he also was known for his charitable efforts that helped kids go to college and perhaps inspired a new generation of superstars both on and off the football field.
But for all that success, that prowess, as a larger-than-life figure, Seau also is serving to inspire someone else who was quite close to him — particularly now in the wake of his untimely death last month at age 43.
In the past, Junior Seau inspired and encouraged his big brother, Savai'i, to pursue his dreams of being an artist — and an ongoing project they started months ago that was meant to culminate with Junior's likely induction into the Pro Football Hall of Fame in a few years has taken on a somber turn.
In an exclusive interview with Beckett Media Contributing Editor Susan Lulgjuraj, Savai'i Seau discussed The Junior Seau Print Collection, his brother's wishes for his work and more. Here's an excerpt of the story that will be found in the August issues of both Beckett Football and Beckett Sports Card Monthly magazines arriving in hobby shops and bookstores soon.
The Plan
This wasn't the first project the brothers worked on together. Savai'i drew murals on the wall of Junior's restaurant and created logos for his brother's clothing line. This was just the next way to help each other.
"You just can't take life for granted," Savai'i Seau said. "We all have moments, but that has changed because of what had happened. There is a message and the message is don't keep everything in. That helps when I talk to people. Now, when I do say it, it comes from the heart. Don't take life for granted."
Savai'i decided to move forward with the project because Junior has always inspired him and supported his artwork.
"He was always saying 'You can do it,'" Savai'i said. "We had some good things planned. Unfortunately, with what happened it's not the way it's planned. I know with him upstairs looking down, I know he is happy. It was a dream I always had and a dream he always supported."
Family friend Scott Turesky, who is helping with the business-side of the project, also knows this to be true. More than a year ago, the three men were at Seau's The Restaurant  in Mission Valley, Calif. There, Junior was signing several of the lithographs.
Savai'i had left the table leaving Turesky and Junior alone. Junior paused from his work and looked at Turesky.
"Of all the things I have ever signed,"  Junior said, "this is the most important to me."
If the importance of the lithographs wasn't understood before, Turesky knew then just how much this project meant to the brothers.
"He had tears in his eyes when he said it," Turesky said. "I got goose bumps. You could see the love he had for his brother."
The first edition lithographs are currently available online at bug55.coinpalace.com, while future editions of lithographs featuring Junior in other uniforms from his football career will be available in much larger quantities. Those will not be signed by Junior and instead will have facsimile signatures.
—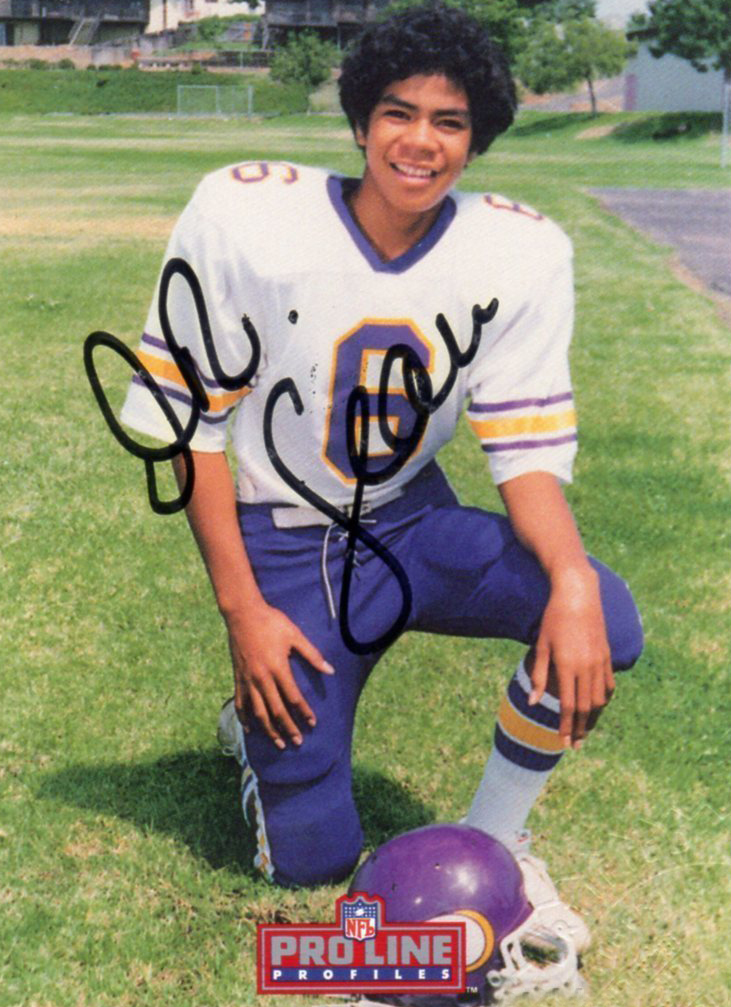 The Healing Process
Savai'i paints as a way to connect to the younger brother he lost, the man family members affectionately called "June Bug" growing up. Savai'i paints to remember all that was great about his brother.
His personality. His generosity. His smile.
… Drawing and football were part of both of their lives for a long time, despite Junior being good at only one of these. They would paint murals on the garage walls in their home in Oceanside, Calif., and Junior wanted to help, so, of course, Savai'i would let him.
"Draw this straight line here," he'd tell his younger brother after drawing dots on the wall for him to connect.
Yep, that was Junior's contribution. But it was fun and the two loved it. Savai'i and his brother would sketch together – although Junior was more into paint-by-number pieces — run around the neighborhood, play football and watch their favorite sport, basketball.
As they got older, Junior encouraged his brother to follow his dream of being an artist. Savai'i tried at different times. He had his first piece showcased in 1992. He also had his art displayed in two different galleries.
But he's had to put that part of his life on hold at different times because of family. Savai'i has two sons, and being an artist is a difficult way to make money. Savai'i is a physical education teacher and spends time with his children, leaving little time to create.
Now, though, his creative spirit has returned.
"We said, 'Let's see what we can do with this,'" Savai'i said. "This is what I want to do and Junior said no problem. He wanted me to be an artist. He said do your thing, it will work out, it will play out."
—
Read the full story in the August issues of Beckett Football and Beckett Sports Card Monthly coming soon.
Chris Olds is the editor of Beckett Sports Card Monthly magazine. Have a comment, question or idea? Send an email to him at colds@beckett.com. Follow him on Twitter by clicking here.