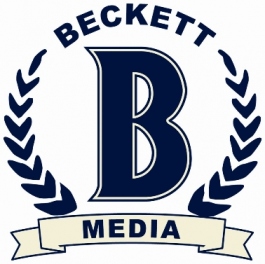 July is Customer Appreciation Month at Beckett Media … a contest a day beginning today!
How do you enter? Click here on Beckett.com, log in and that's it.
Today's prize? A 2008 Leaf Certified Materials Printing Plates Magenta #246 John Elway AU 1/1.
See a list of each day's prizes after the jump.
Here is a list of the prizes:
1-Jul 2008 Leaf Certified Materials Printing Plates Magenta #246 John Elway AU 1/1
2-Jul 2010 Panini Century Astronauts Eight Cent United States in Space Stamp Materials Autograph #1 Scott Carpenter/50
3-Jul 2006-07 Upper Deck Trilogy Signs of Stardom Dual #SOSNK Jason Kidd/Steve Nash
4-Jul 2011 Upper Deck MLS Hobby Box
5-Jul 2010 Topps UFC Knockout Triple Threads Relics Autographs #TTAR8 Forrest Griffin/18
6-Jul One box each of 2009-10 Upper Deck Victory Swedish & 2009-10 Upper Deck Victory Finnish
7-Jul $50 Beckett Grading Services Gift Certificate
8-Jul one-year subscription to the sport Beckett Online Price Guide of your choice
9-Jul 2009-10 The Cup Foundations Jerseys Autographs #CFDD Drew Doughty/10
10-Jul 2010 Topps WWE Autographs #ABS Big Show
11-Jul 2004 Action/RCCA Elite 1:24 #8 D.Earnhardt Jr./Bud# Dave Matthews Band/3,888
12-Jul 2008-09 The Cup Programme of Excellence #PEGF Grant Fuhr/10
13-Jul 2009-10 National Treasures Colossal Materials Blake Griffin/25
14-Jul 2011 Topps Tribute Autograph Relics Green #TG Tony Gwynn
15-Jul $50 Beckett Marketplace Gift Certificate
16-Jul 2008 Topps Triple Threads Jumbo Plus Relics Platinum #14 Vladimir Guerrero 1/1
17-Jul 2008-09 Upper Deck Champ's Hockey Hobby Box
18-Jul 2010 Upper Deck World of Sports Autographs #201 Nastia Liukin
19-Jul one-year subscription to the sport Beckett Online Price Guide of your choice
20-Jul 2009-10 Classics #164 Tyreke Evans AU/499 RC
21-Jul 2010 Topps Triple Threads Relic Double Combos #11 Roger Staubach/Tony Dorsett
22-Jul $50 Beckett Marketplace Gift Certificate
23-Jul 2009-10 National Treasures HOF Signatures Silver #18 Magic Johnson
24-Jul 2010 TriStar TNA Xtreme Sting Die-Cut Letter Memorabilia Green #S4 Sting N
25-Jul 2008-09 The Cup #138 T.J. Oshie JSY AU RC
26-Jul 2009-10 SP Game Used Authentic Fabrics Dual Patches #AF2FC Marc-Andre Fleury/Sidney Crosby/25
27-Jul one-year subscription to the sport Beckett Online Price Guide of your choice
28-Jul 2009-10 SPX Hockey Hobby Box
29-Jul $50 Beckett Grading Services Gift Certificate
30-Jul 2006-07 Ultimate Collection Premium Swatches Patch #PRJK Jason Kidd
31-Jul one-year subscription to the sport Beckett Online Price Guide of your choice