Julius Erving auction nets $3.5 million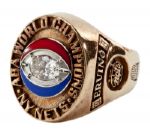 By Susan Lulgjuraj | Contributing Editor
One of the most iconic basketball figures sold off his entire collection in auction that ended Sunday.
Julius Erving – better known as Dr. J – got rid of everything from championship rings to watches to trophies and game-worn clothing. The 144 pieces netted Erving $3.5 million at SCP Auctions, based out of Laguna Niguel, Calif.
His 1974 New York Nets ABA championship ring received the highest bid, going for $460,741. Next was his 1983 Philadelphia 76ers championship ring that went for $244,240.
It may seem surprising to many that he would get rid of his collection, but Erving had a reason.
Back in October, he told the Associated Press he is sold the items because he had no used for them. He said he never looks at them and most items were in storage anyway. He said he planned to donate some of the proceeds to the Salvation Army.
Erving said a recent lawsuit and perhaps some money problems had nothing to do with the auction. He said he planned on doing for months.
Not all of the items will end up in private collections.
Philadelphia 76ers CEO Adam Aron tweeted Sunday morning the basketball team's new ownership group bid on many items.
"Purchased 18 items in 10 lots," Aron tweeted. "For display to our great 76ers fans."
Some of the more obscure lots included a collection of signed photos and letters from former Presidents and Vice Presidents of the United States to Erving. Included were Jimmy Carter, Gerald Ford, Ted Kennedy, Walter Mondale, Al Gore and others. The bidding closed at $5,777.
Even a pair of customized Converse made for the movie "The Fish That Saved Pittsburgh" sold for $3,355.
Susan Lulgjuraj is a contributing editor for Beckett Media. You can email Susan here. Follow her on Twitter here.