Josh Hart Cards Heating Up – Beckett Pricing Insider
Josh Hart cards saw a nice sales boost over the past week as collectors took notice of his performance in the NBA Las Vegas Summer League where he was named its MVP.
The second-year Lakers guard averaged 22.4 pts, 4.7 rpg and 2.3 apg on 45 percent shooting. His dominant showing was highlighted by a 37-point, nine-rebound effort in a double-overtime semifinal victory over Cleveland.
Coinciding with his on-court improvement, Hart's card prices have risen pretty much across the board. In particular, his Panini National Treasures RC has experienced brisk sales and steadily rising prices, landing it on the upcoming Basketball Hot List.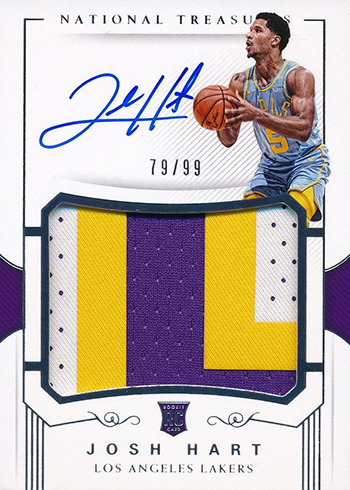 Hart is a player collectors should keep an eye on this upcoming season. The Lakers are an intriguing team with an interesting blend of veterans and youth. Propelled by his strong summer performance, it's possible Hart could push for a spot in the starting lineup and challenge Kentavious Caldwell-Pope for the shooting guard position.
However, whether starting or coming off the bench, he is going to be in the mix and get his share of playing time.  What Hart does with that playing time will determine whether this hobby's summer love affair continues into the regular season.