Josh Hamilton has come full circle on cards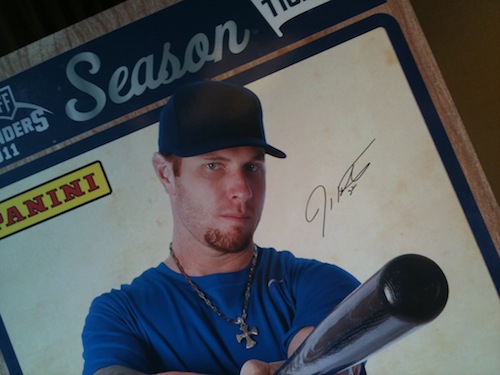 By Chris Olds | Beckett Baseball Editor | Commentary
ARLINGTON, Texas | Texas Rangers outfielder and reigning American League MVP Josh Hamilton is the new face of Panini America's baseball card line after a deal between the Texas-based collectibles company and the Major League Baseball Players Association was unveiled on Thursday.
And that meant he got paid to talk about baseball cards with the assembled media — you don't get that all too often — but he also talked about a little more, something that should really bring home the place that baseball cards just might have for many.
Hamilton — who arrived at the Arlington Sheraton alone and noticeably early for the early afternoon affair, asking Panini's crew "Am I in the right place?" in a rather low-key fashion — started with the formalities, of course, once things got going.
"Today is a great honor for me to be a part of the Panini family," he said after the introductory statements from Panini CEO Mark Warsop and Evan Kaplan, the MLBPA director of licensing.
Then he told a more personal story that involves baseball cards.
"From the time I was born, my grandmother bought me a set of baseball cards every year until I graduated high school," he said. "The cool thing about it is when you first see yourself on a baseball card — realizing that growing up you looked at the players on these cards, looked at the pictures, you traded them, you stuck them in bicycle wheels. You did all these things that kids do."
That was his same grandmother, Mary Holt, who took him in when he was at his lowest, when his wife kicked him out of his house because he was struggling with his sobriety and ultimately out of baseball for three years.
Now of course, the former No. 1 overall draft pick looks at life — and his baseball cards — perhaps a bit differently — both as a collector and perhaps as a sign of achievement.
"Now that I am on the cards, it's cool for me to go to different parts of the country in different stadiums and facilities and to have fans bring cards that take me back to my childhood and show me," he said. "Because they know that I'm a collector of cards … the cards are a big deal so for me to be here today to help Panini come into the baseball world is pretty special."
So, did Hamilton remember seeing his first baseball card — was there anything that came to mind specifically?
He chuckled and smiled after hearing my question.
"I remember where I was. I was in Pulaski," he said, stopping to ask those nearby whether that was in West Virginia. (It's actually Virginia, home of the Rookie League Pulaski Mariners today — ironically a team that was a Rangers affiliate at the time.)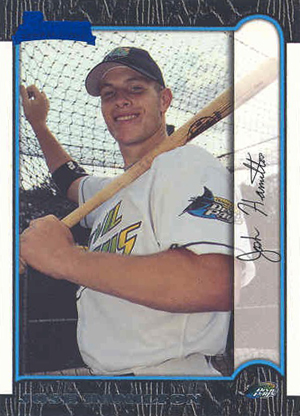 He then discussed the memory of posing for the first photos for his first baseball card, which was as a minor leaguer for the Tampa Bay Devil Rays — a card found in the 1999 Bowman set.
"The first one was — actually I had a friend who ended up taking the pictures of me for my first card — pretty special. I remember it was just a run-down stadium, and I was on the back of a batting cage net and had my hand up and bat here," he said while re-creating the pose, "and it was kinda corny now that you think about it but awesome at the same time because it was the first time I had ever done that."
Not long after his baseball cards arrived, his life and career derailed and he was out of baseball because of his well-documented drug problems. But he said seeing his first card as a bona-fide major-leaguer as a member of the Cincinnati Reds also resonated with him, perhaps more than that first Bowman card, for a few reasons.
"Having minor league cards and then having that Cincinnati Reds card," he said, "[It was] kinda coming full circle after everything … so it was pretty special.
"For me, it's about the road of how I got here. For my grandmother to see that first card, not just the minor league card, but that first Major League card after the money and time she spent picking all the others out, it was pretty special. Before she passed in '09, she had a book with all my cards in it, so it was pretty cool."
Now, though, Hamilton embarks upon something new — a journey helping Panini gain a presence in the American baseball card psyche … something that, unfortunately, Mary Holt isn't here to see.
Now he's the face of a company on boxes and packs of its Playoff Contenders cards arriving not long from now.
How does that feel?
Hamilton leaned down to the mic before answering that question.
"Cool," he said, cracking a smile as the assembled reporters and Panini staff members filled the room with laughter.
Chris Olds is the editor of Beckett Baseball magazine. Have a comment, question or idea? Send an email to him at colds@beckett.com. Follow him on Twitter by clicking here.
Below: Beckett Baseball's Chris Olds goes one-on-one with Hamilton.

[youtube]http://www.youtube.com/watch?v=cbb1WAFWb24[/youtube]
Below: Hamilton talks to the assembled TV media.

[youtube]http://www.youtube.com/watch?v=oGxgjKcjDR8[/youtube]
Below: Hamilton's full comments from the news conference.
[youtube]http://www.youtube.com/watch?v=NjJyzZNny5c[/youtube]