Jose Canseco offers fans a chance at landmark bat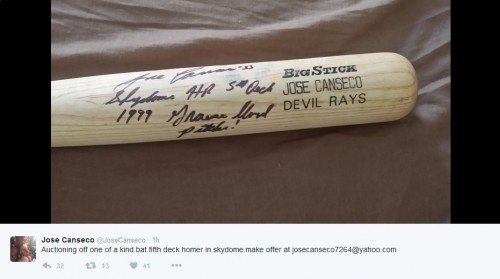 By Stephen Laroche | Beckett Sports Card Monthly Editor
The opportunity to buy a piece of memorabilia directly from a player is a rare treat for collectors. Quite often, they will have to go through an auction house or simply settle for a sliver of it that has been embedded in a trading card.
Earlier today, famed baseball slugger Jose Canseco decided to go directly to collectors himself via his Twitter feed and offered up a chance to bid on a piece with some strong provenance.
"You want to know something funny? I found that probably two weeks ago with some bats that I didn't even think I
had," he told Beckett Media. "You know, I've auctioned off or sold most of my memorabilia, almost all of it. The last remaining bat, I actually found it and was trying to figure out where the bat was from because of the writing on it. I went online and actually found the video that I hit off of Graeme Lloyd. It's on YouTube and hit the fifth deck in a game against the Blue Jays when I was with Tampa."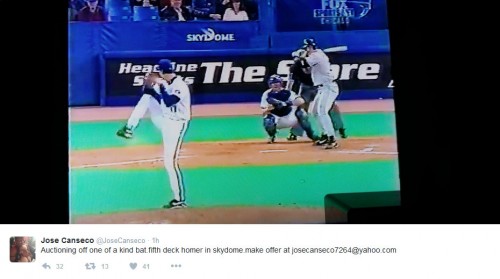 The game, which took place on April 12, 1999, was his second with the then-Devil Rays after he had joined the team as a free agent. The ball went into the 500 level of the stadium – a feat that has only taken place on a handful of occasions.
He spent the previous year in Toronto and it was a comeback season as he went yard 46 times, the highest total of his career. The second inning solo shot was not enough, though, as the Blue Jays won 7-1 that day.
"I found it and saw that it was inscribed and said 'wait a minute, were did this thing come from?' I had it in storage and when I looked it up, and there it was, the homer off Graeme Lloyd, and there was a video on it. So, I put it on Twitter. The bat is now up for auction and people are bidding on it right now."
Bidders can send their bids to Canseco via email and he was impressed by the reaction from fans thus far.
"People are asking me to tell them what the highest bid is so they can bid a dollar over," he said. "That's pretty nutty."
The auction, which is expected to end in less than 48 hours, is certainly unique and Beckett Media will attempt to follow up with him to see where it closes at. He explained further why he believes it to be so significant.
"This is the only bat that might be out there and auctioned in history or that someone might have that hit a ball into the upper deck. It's a very rare, rare bat. To hit a ball into the upper deck, that's rare."
Canseco did hit the first upper deck homer at the SkyDome (now Rogers Centre) as a member of the Oakland Athletics back on October 7, 1989. The second took place on September 25, 1998 while playing for the home team.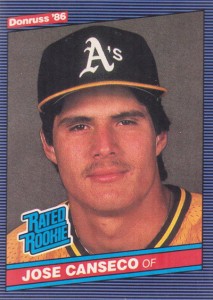 For collectors, the mere mention of Canseco's name takes them back to the beginning of the boom years when pulling one of his cards generated instant excitement. The action on his 1986 Donruss Rated Rookie was intense during his peak years and he reflected on his impact on the hobby.
"At the time, I remember being a young player and of course, you had a few competing card companies. Today, you have dozens, but in the 80s and 90s, a lot of companies came out of the woodwork. The card industry just blew up and you had all these exciting players."
But what did Canseco think the first time he saw himself on a baseball card?
"Oh my god, I think I was in shock," he said. "I think the first baseball card was when I was in Madison, I think? It was a long time ago. The first Major League baseball card was Fleer or Donruss. There have been so many cards and so many companies out there. I still sign for Topps and Panini, also. If you look at the original baseball cards from when I was a kid, when I used to trade baseball cards, there were just a simple cardboard material with lousy printing on it. When you look at the cards today, some of this are that hard plastic, some of them are see-through, some of them are acrylic. It's just amazing, the structure of the baseball cards they've been making. More beautiful, thicker, more collectible. It's just crazy."
There is one innovation that he would like to see the card companies consider in the future.
"I'm waiting for the day they do a card where you press a button and hear the athlete talk. 'Hi, this is Jose Canseco, Rookie of the Year, MVP. Thank you for having this card!' I'm waiting for the day to actually do that. Just a short little soundbite."
Canseco, an American League Rookie of the Year (1986) and MVP (1988), was the first player to hit 40 home runs and steal 40 bases in a season before winning a World Series with Oakland in 1989. He also enjoyed stints with the Texas Rangers, Boston Red Sox, New York Yankees, and Chicago White Sox before making his final big league appearance in 2001. Four year later, he wrote a best-selling tell-all and admitted to using anabolic steroids during his career. Today, he keeps busy, stays active and in shape, and expressed appreciation for those that continue to support him.
"It's great to still have fans," he said. "A lot of the fans from the 80s and 90s, but you get some younger fans. I'll be working out in the gym, and I'm 52 years old, and you get a 20-something kid, whether his father was watching or he followed your career at one point or his father took him out to a baseball game when he was a kid,
and he's still a big fan of yours."
Stephen Laroche is the editor of Beckett Hockey, Beckett Basketball, and Beckett Sports Card Monthly magazines. Have a comment, question or idea? Send an e-mail to him at slaroche@beckett.com or follow him on Twitter @Stephen_Laroche.