Jordy Nelson Heads West – Beckett Pricing Insider
For the first time since he was a rookie in 2008, Jordy Nelson is going to be playing for a team that is not the Green Bay Packers.
In 2008, Nelson was drafted in the second round with 36th overall pick. It took about three seasons, but he eventually became Aaron Rodgers' favorite target and consistently broke 1,000 yards per season. Nelson even led the league in touchdowns in 2016 with 14 after missing the entire 2015 season with a torn ACL.
Then the worst possible thing that could happen to Jordy and the Packers did: Aaron Rodgers broke his collar bone, effectively ending his season.
After a down season with a back-up quarterback, the Packers decided to move on from Nelson. To say that was an unpopular decision is an understatement (just ask my mom). The Packers released Nelson and he quickly found a home in Oakland where he is going to have to contend with Amari Cooper and Martavis Bryant for catches and touchdowns. With his speed and sure hands, Nelson should still get plenty of action.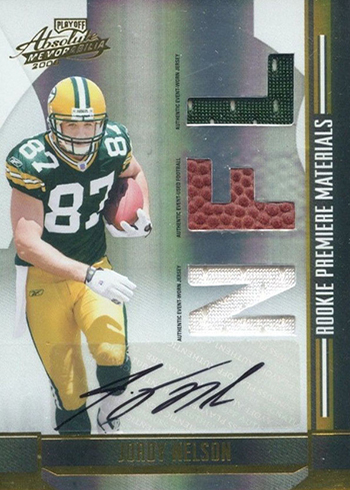 Jordy Nelson has a ton of cards that collectors can choose from. He has well over 4,000 cards in the Beckett database already. Of those, about 900 are from his rookie year alone and more than 1,000 are autographs.
Nelson's autographs have sold pretty consistently throughout is career. The average value for his autographs tend to be in the $25-$40 range. It did take a slight dip last year but it wasn't as bad as it could have been.
Going from one highly collected team to another should not hurt his value much either. This season could see some movement for him though, depending how the Raiders plan to use him.