Michael Jordan's rookie shoes top $70,000 at auction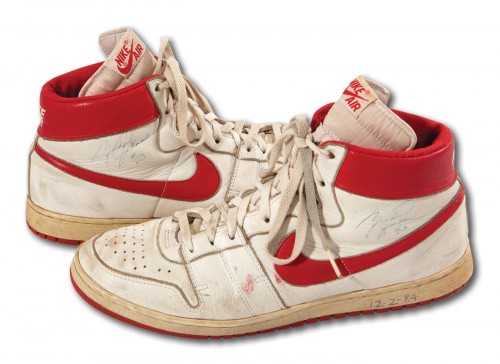 By Stephen Laroche | Beckett Media
As a rookie with the Chicago Bulls in 1984-85, Michael Jordan swiftly proved to be a superstar and while Nike had the foresight to sign him to a deal early on, his iconic Air Jordan shoes were not ready for game action until he had a few games under his belt.
Instead, he donned Nike Air Ships for a few weeks and over 30 years later, a pair that had been obtained by a ball boy for the Los Angeles Lakers following a narrow victory by the Bulls on December 2, 1984 has just sold via SCP Auctions for an impressive $71,554.
Read on after the jump for the full story behind these unique red and white sneakers.
[youtube]https://www.youtube.com/watch?v=rpZfsOfahZA [/youtube]
Khalid Ali originally asked the then-young superstar for a pair of original Air Jordans that he was only wearing during warmups that day. While Jordan did not give away the unreleased shoes, he told Ali to see him after the game. He signed and dated the shoes he wore during the game for the ball boy, who then put them aside until they were put on the auction block.
While Ali was not a fan of Jordan prior to that contest, his opinion changed once he saw Jordan play live.
"The reason I held onto these shoes is that during the game, I noticed that Michael Cooper was on the Lakers, he could basically guard anyone on the floor and when I saw that Michael Jordan could get by him and get to the basket, I said, 'this Michael Jordan is going to be special, so I had better hold on to these shoes.'"
By the end of December, 1984, the future Hall of Famer began to wear the Air Jordan shoes and the brand became an international phenomenon. Ali had the foresight to put the shoes away in a closet, but seems to have no regrets about putting them up for sale.
"I don't think it will be that hard to let go of them," said Ali in a video produced by SCP to promote the auction. "There are some things that I could do to bless others or help other people with the proceeds. Those are priceless ways to help people and the shoes may be a good vehicle for me to do so."
Stephen Laroche is the editor of Beckett Hockey and a contributor to Beckett Basketball. Have a comment, question or idea? Send an e-mail to him at slaroche@beckett.com. Follow him on Twitter @Stephen_Laroche.