John Brown: And Other Collectible Breakouts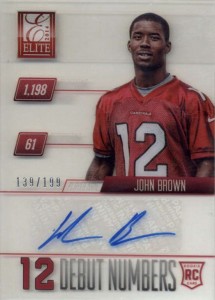 By Justin Grunert | Beckett Football Price Guide Analyst
John Brown was the hero in Arizona on Sunday afternoon. With 1:20 left on the clock, Brown caught a 75-yard touchdown from Carson Palmer to put the Arizona Cardinals ahead of the Philadelphia Eagles. The final score of the game was 24-20, moving the Cardinals to 6-1 on the season.
Brown has very few cards and only a few of those are autographs. Brown was drafted in the third round out of Pittsburgh State, therefore, hailing from such a small university might contribute to why he's been largely overlooked by card companies so far this year. Brown appears on just 45 total cards in six products compared to fellow rookie receiver Sammy Watkins' 904 different cards.
One of the great things about collecting football cards is that every year a number of relatively unknown players become instantly collectible, and the 2014 season has already seen its fair share of these players While Brown at least has some cards, there are several other players who have even less or no cards at all.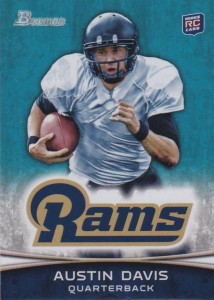 Red Hot Rams quarterback Austin Davis only appears in one set: 2012 Bowman and its parallels. Both Brown and Davis have seen a significant increase in the popularity, and value, of their cards. Interestingly, breakout running backs Branden Oliver (Chargers), Matt Asiata (Vikings), Lorenzo Taliaferro (Ravens), and Jonas Gray (Patriots) have no cards at all! All of these players have had significant impacts for their teams this season. We could see some of them, if not all, on cardboard in late season products and don't be shocked if their autographs sell at a premium.