Joey Votto Rookie Card Guide
The Joey Votto Rookie Card story is one that's equal parts simple and complicated. On the one hand, the list of RCs is small and straightforward. However, Votto's place on the baseball card timeline puts him squarely in two different eras, which can get a little messy.
After being taken with 44th pick in the 2002 MLB Draft, it would only be a few months before Joey Votto Rookie Cards arrived. It also means that he doesn't have many. In stark contrast to the dozens of RCs most modern players have, the Canadian first baseman has just three. Of those, two (Bowman Draft and Bowman Chrome Draft) are found in the same product.
With no prior minor league or prospect cards, this gives all three Joey Votto Rookie Cards prestige and strong values, especially when you consider they lack premium elements like autographs and serial numbers.
For collectors, it's easy to keep track of. But a change in baseball's approach to what is and isn't a Rookie Card a few years later has made something clear a little more mucky.
2002 Rookie Cards vs. 2008 "Rookie Cards"
Starting in 2006, the MLBPA and MLB announced that players couldn't appear in a traditional base set until they'd made an appearance in the majors. For years before that, draft picks, prospects and even Olympians were found on checklists. As part of the main set, Rookie Cards often came years before a player was actually a major leaguer.
Like Joey Votto, for instance. He appears alongside veterans in all three of the 2002 sets where he has a Rookie Card.
Here's where it gets messy.
Votto made his MLB debut in September, 2007. His 2008 base cards from Topps and Upper Deck all have the RC logo on the front. Going by the new "rules" introduced by MLB, it's understandable. There's a few years of overlap where prospects from the old way of doing things were shifted into the new way. But for most, the hobby's traditional rules go for the first base cards being the RC applies here. Joey Votto Rookie Cards are found in 2002 products, not 2008.
Joey Votto Rookie Card Guide and Checklist
2002 Bowman Chrome Draft Joey Votto Rookie Card #BDP44
The most valuable Joey Votto Rookie Card, this one carries the heavyweight Bowman Chrome brand. Autographs were just starting to emerge at the time and were definitely the exception when it came to Bowman Chrome.
Also very different to today is the rainbow. Unlike the massive mix of colors found in more recent sets, 2002 Bowman Chrome Draft parallels are limited to Refractors, X-Fractors and Gold Refractors. Superfractors wouldn't arrive for another couple of years.
Parallels: Refractors (/300), X-Fractors (/150), Gold Refractors (/50)
Buy on: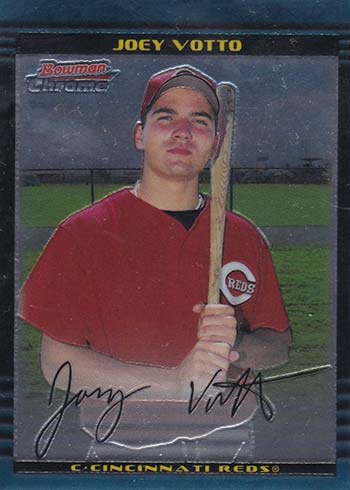 ---
2002 Bowman Draft Joey Votto Rookie Card #BDP44
For those who aren't into shiny cards, there's the 2002 Bowman Draft Joey Votto Rookie Card. It's the same general card as Bowman Chrome but with more traditional glossy stock. Prices aren't quite as high, which makes this one slightly more affordable.
2002 Bowman Draft and Bowman Chrome Draft cards are all found in the same packs, similar to how the line is still today.
Parallels: Gold
Buy on: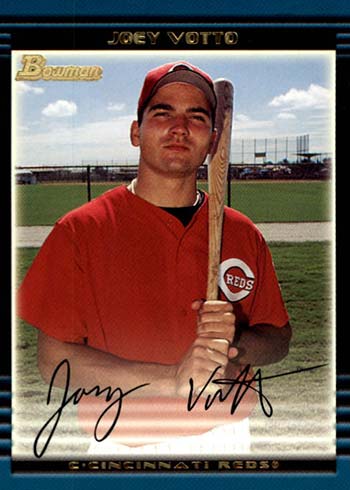 ---
2002 Topps 206 Joey Votto Rookie Card #429
The final Joey Votto RC looks almost 100 years to the past for its inspiration. 2002 Topps 206 is a tribute to the iconic 1909-11 T206 tobacco set. The Canadian is found in Series 3 packs.
Although the 2002 Topps 206 base set is traditionally sized, the parallels take on the smaller tobacco dimensions of the original T206 set. Also drawing from the past are the ads on the back of these parallels instead of more traditional color variations found in most other products.
The 2002 Topps 206 Joey Votto is not an overly common card on the market today.
Parallels: Polar Bear, Caporal Black, Caporal Blue, Caporal Red, Uzit
Buy on: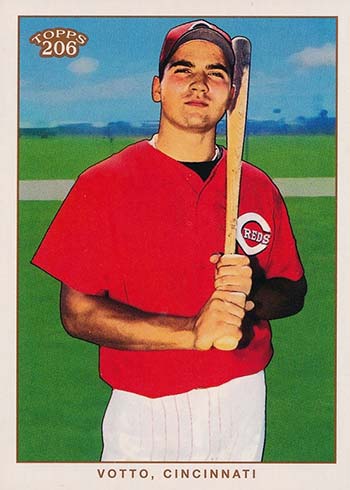 ---
Early Joey Votto Autographs
Joey Votto is no stranger to autograph cards (although he doesn't have as many as a lot of players). The first arrived a couple of years after his Rookie Cards, in 2004.
2004 Bowman Signs of the Future has the distinction of being his earliest MLB autograph. Votto is part of the most common group of signers. However, it's still not an easy find, especially all these years later. A Red Ink version is also available. It's extremely rare, though, with an announced print run of just 25 copies.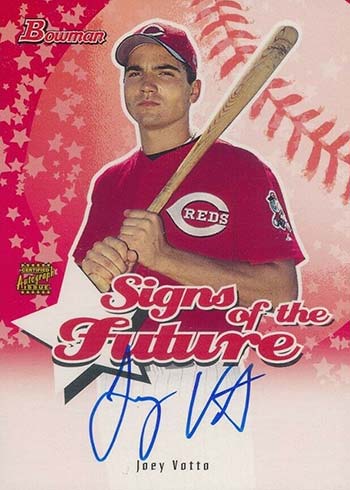 The next Joey Votto autographs in an MLB set wouldn't be until 2007.
Votto's signature also appears in 2004 Just Prospects, a minor league set. What's important to note here is that outside of the signature, the card is virtually identical to his base card in the set. To ensure that it's a pack-inserted autograph and not one signed in person (or even forged), there should be a sticker on the back. This card also has Black, Gold and Silver parallels.