Jimmy Graham's First Lambeau Leap – Beckett Pricing Insider
Jimmy Graham caught his first touchdown as a Green Bay Packer in the team's 51-34 preseason win against the Pittsburgh Steelers. On his only drive of the night, Aaron Rodgers connected with Graham for an eight-yard touchdown. It was also Graham's only catch of the night, which isn't surprising since most starters only play a series or two in preseason games.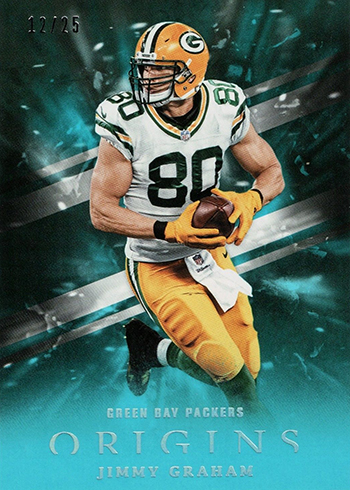 Graham started his career in 2010 with the New Orleans Saints and played there for five years. Along with Rob Gronkowski, he was considered one of the best tight ends in the game. In 2015 he left the Big Easy for Seattle.
That's when his stats began to drop off. Some would say that was because the Seahawks didn't utilize his talents properly. No matter the reason, the fit wasn't great and, ultimately, things didn't work out.
Graham's tenure with in Seattle came to an end when he signed an off-season deal with the Green Bay Packers, a team that has struggled at tight end.
There are over 2,600 Jimmy Graham cards in the Beckett database, including a handful of Packers cards. Of those, only 245 are autographs and he hasn't signed any cards since 2014.
When Graham joined the Seahawks and his production fell off, so did his card values has seen a drop. An example is his 2010 Exquisite Collection rookie autograph. The high book value was once at $300. Today it's down to $100.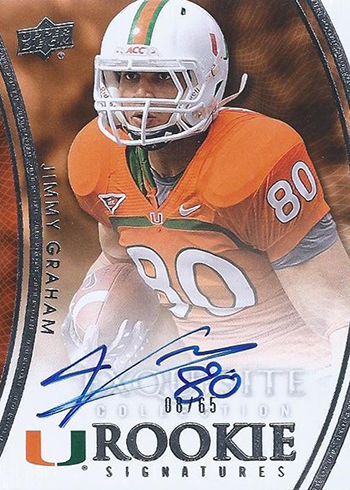 The good thing for Graham and his collectors is that with the Packers he will be utilized as a receiver a lot more. Aaron Rodgers loves throwing to tight ends and there is the potential for a lot of touchdowns being thrown in Graham's direction. Top that with being part of one of the most collected teams in the NFL and this is a recipe for a potential resurgence in his cards.