The Humble Jim Thome Rookie Card Beginnings
If you've been sitting on a Jim Thome Rookie Card or hoarding hundreds of them like some sort of lottery ticket of inevitability, it's going to be tough to cash in. Like so many great cards of great players from the era, Jim Thome Rookie Cards fall under the category of "There's Just So Many." And then another pile shows up.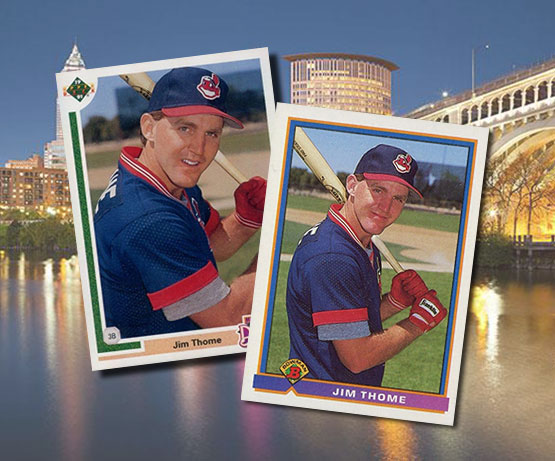 So now that we've got the idea of value out of the way, let's appreciate the earliest Jim Thome cards for what they are and not what they failed to become.
To go back to the first Jim Thome cards, you need to head back to 1990. Ninja Turtles were rocking the half shell and Vanilla Ice was asking us to stop, collaborate and listen. Things in the world of pop culture were starting to get loud.
There were signs of it in the hobby, particularly the pop art stylings of 1990 Topps and the bright red of 1990 Donruss. But for the most part, things were still on the traditional side. Although the card industry was starting to peak, a lot of minor league cards were still not part of the mainstream. This includes a pair of Jim Thome cards, which are both significantly tougher to find than his actual RCs.
Those came a year later when Thome was making his MLB debut with the Cleveland Indians. But while a lot of Hall of Famers, even those making their debut in this era, have several Rookies, Thome has just two.
Much like his career, these have both been relatively quiet. When they first came out, Thome wasn't putting up big numbers. And by the time he starting hitting 30, 40, 52 home runs in a reason, a lot of collectors had left the hobby leaving a glut of product from his early seasons.
Everyone can still appreciate a Jim Thome Rookie Card for what it is–a humble start to a legendary career. Great cards don't have to be worth thousands, hundreds or even $5 and here's a player who proves it.
Here's a look at specific Jim Thome Rookie Cards as well as his minor league cards.
Jim Thome Rookie Card and Minor League Cards Guide
1990 Burlington Indians ProCards Jim Thome #3018
Part of a Burlington Indians team set, this is the Jim Thome minor league card you're most likely to encounter. It's one of 28 cards in the set. Not surprisingly, it leads the way with Alan Embree likely being a distant second.
Compared to his Rookie Cards, the 1990 Burlington Indians ProCards Jim Thome is much more limited. That said, it's not on the scarce end of the spectrum, either.
Buy on: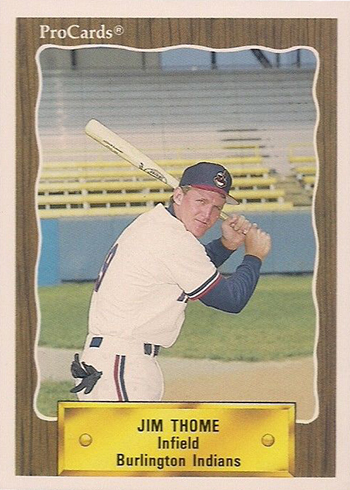 ---
1990 ProCards A and AA Jim Thome #187
1990 ProCards A and AA takes a more traditional baseball card approach in that cards were distributed in packs. It also meant a mixed checklist with players from different teams and systems.
ProCards is notable for having some of the first cards of hundreds of players throughout the 1980s and into the '90s. Many of their designs, though, aren't so great. This one has solid lines but those large chunks of orange seem more appropriate for the side of a Sunny Delight than a baseball card.
Buy on:
• eBay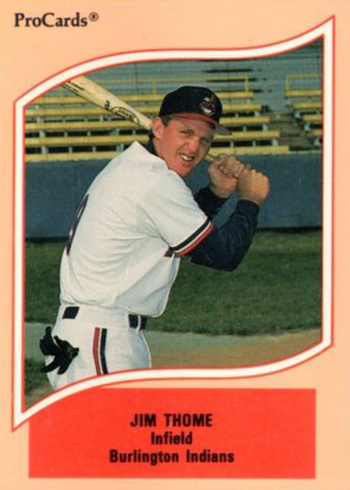 ---
1991 Bowman Jim Thome RC #68
1992 Bowman Baseball gets a lot of love, whereas 1991 is somewhat overlooked. Yes, 1992 Bowman had a fantastic checklist. Yes, it was better quality from a production standpoint. And, yes, it made a lot of fashion statements.
But you know what? 1991 Bowman Baseball is pretty great, too. Like 1992, it has a great checklist. Among them? The only Jim Thome Rookie Card to come from a pack.
Unlike the previous couple of seasons, Topps didn't product a Tiffany version of 1991 Bowman. So there is no premium version or parallel to chase. This is it.
Buy on: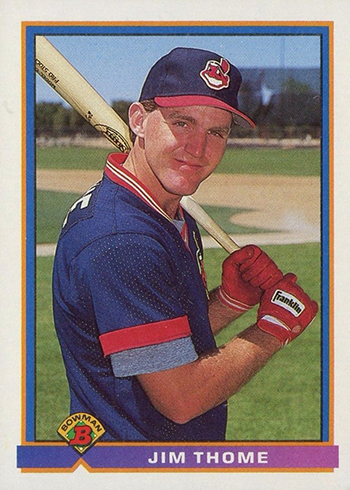 ---
1991 Upper Deck Final Edition Jim Thome RC #17F
1991 Upper Deck High Number is a continuation of the main set. 1991 Upper Deck Final Edition Baseball is more of a traditional update or traded box set. It came packaged on its own and didn't have packs. The numbering includes an 'F' so it stands on its own.
Compared to the Bowman Jim Thome Rookie Card, this one is definitely higher quality. Upper Deck still had the market for slick cards pretty much cornered. But, like the Bowman card (and virtually every other 1991 set), a ton of sets were made. If you live in the suburbs and stand outside your door and yell that you're looking for a set, a neighbor might come running. It's not a knock on the card, just the reality of the situation.
Buy on: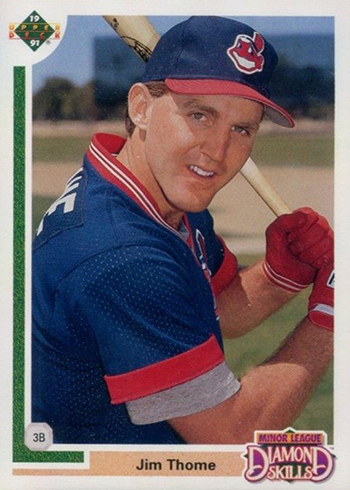 ---
Comments? Questions? Contact Ryan Cracknell on Twitter @tradercracks or by email.