Jim Brown's Rookie Contract Up For Auction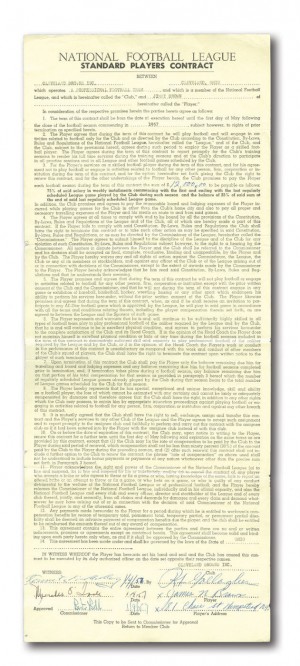 By Stephen Laroche | Beckett Media
One of the most historically significant player contracts in NFL history is on the block and thanks to SCP Auctions, a lucky collector will soon walk away with a written record of Jim Brown's rookie deal with the Cleveland Browns that was signed before the 1957 season began.
With bidding expected to reach up to $35,000 by the time it closes this weekend, this document marks the beginning of the Hall of Famer's professional career after being a first round selection in that year's NFL Draft. Prior to that time, he had been a standout All-American at Syracuse and in the years that followed, Brown revolutionized the game.
"Jim Brown's 1957 Rookie contract has to be one of the most important pieces of Jim Brown memorabilia known and is certainly among the most significant football related documents in existence," noted SCP Auctions Vice President Dan Imler in a press release.
How much was Brown paid in his first season? Find out after the jump.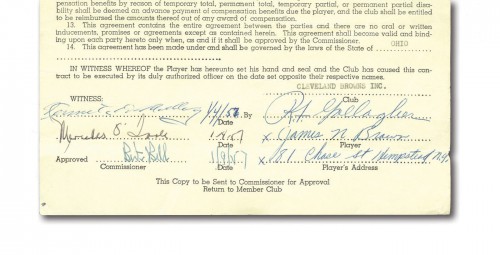 The document itself is a National Football League standard players contract and is limited to a single page. In additional to the usual legal jargon that all players agreed to at the time, it provides specific details that pertained to Brown and it was signed by the then-young superstar along with Cleveland scout Richard Gallagher and league Commissioner Bert Bell, who passed away two years later. In addition to his $12,000 salary, there was a hand-written note on the back where the team agreed to give him a signing bonus of $3,000.
Brown ensured that the Browns got value out of every dollar they gave him with this deal and he had an incredible 1957 campaign and was named the NFL's Associated Press Most Valuable Player after leading all rushers in yards and touchdowns. In the seasons that followed, he was truly dominant and abruptly retired as the league's all-time rushing leader to pursue an acting career.
Stephen Laroche is the editor of Beckett Hockey and a contributor to other Beckett Media publications. Have a comment, question or idea? Send an e-mail to him at slaroche@beckett.com. Follow him on Twitter @Stephen_Laroche.