Jim Bouton's Ball Four archive and memorabilia up for bids through SCP Auctions
When you click on links to various merchants on this site, like eBay, and make a purchase, this can result in this site earning a commission.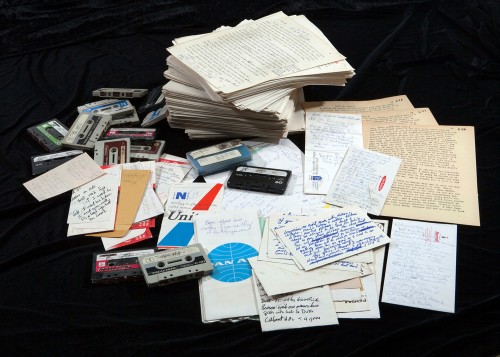 By Stephen Laroche | Beckett Sports Card Monthly Editor
Back in 1970, the baseball world was in furor over a book called Ball Four that was written by a journeyman pitcher named Jim Bouton.
Peeling back the curtain about life in the Major Leagues and pulling no punches, the visceral reaction from the baseball establishment to the salacious behavior described only caused millions of fans to run out and buy it. It humanized heroes and was a revelation in sports literature and it can be argued that there was nothing like it before or since.
Over 45 years after its release, Bouton has put his manuscript archive up for sale via SCP Auctions and collectors have a chance to own the source materials for a piece of baseball and pop culture history. The auction closes on January 21.
Beckett Media spoke with Bouton and his wife, Paula Kurman, about the book's legacy as well as the decision to move such a personal piece of his life.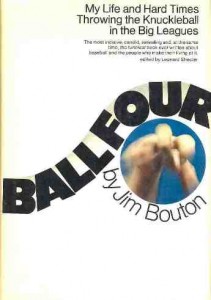 "You wake up one morning and you look in the mirror and you realize that you're not getting any younger," said Kurman. "You can't take it with you and the thought of dividing it up between four children and six grandchildren is just too daunting. Jim has tremendously enjoyed looking at those things for so many years and we've treasured them and kept them safe and protected. It was just time."
Bouton joined the New York Yankees back in 1962 and was part of a World Series championship as a rookie. The next year, he won 21 games and earned a spot in the All- Star Game. An arm injury in 1965 slowed his momentum, and he was in the minors three years later. Expansion allowed him to join the Seattle Pilots and much of the book recalls his experiences for the woeful club. Traded to Houston later that year, his career was about to come to an abrupt close.
Ball Four effectively exiled Bouton from the Majors after its release, but he explained the decision to write it.
"I was inspired for a couple of reasons. It was toward the end of my career and I had spent a lot of time as a professional baseball player. I would come back at the end of the season and tell my parents about what it was like to be a professional baseball player. The players were very fascinating characters from all walks of life and particularly guys who were not college guys. There were only two or three college guys and they were known as 'professors.'
"If you had two years of college, you were known as the 'professor' and so it was a fascinating group of characters and I remember my Mother telling me those are great stories and she would say that you should keep notes. Finally, at what appeared to be at the end of my career, if I was ever going to take these notes and write this book, I'd have to do it now. Fortunately, the Seattle Pilots, which was an expansion team, was a whole bunch of guys thrown together that nobody wanted. We were the expansion guys, and they wanted to get rid of those guys, so we were all meeting each other for the first time. You had all these great storytellers coming from these different teams, so they were all getting to know each other and it turned out to be a marvelous bunch of characters. I always thought baseball players were interesting anyway, but now, I was really paying attention."
"I started paying attention while I was keeping these notes and I began to like them a lot better," he laughed. "They were very interesting characters."
"And with age and distance, I must say, he came to love them," added Kurman. "As each one died, he truly mourned their passing."
"I never thought I would shed a tear when Fred Talbot died about three years ago," continued Bouton. "I thought he was one of of the most interesting characters I had ever know, but I couldn't stand him! But now, as a teammate, and I'm keeping notes, and Fred has these gems coming out of him and he's a very funny guy. I actually called up the funeral parlor because I wanted to say something to his wife and I found a website where I could say a couple of nice things about Fred. As the guys are getting older and more fragile, I'm missing them more now than I ever would have before. Now, I'm so glad that I kept these notes, because otherwise, it would have been gone."
The archive contains the raw draft of the book which contains additional stories that have never seen the light of day.
"Jim was telling fun stories, and true stories, with a journalist's eye and ear," explained Kurman. "He had no idea for the longest time that it had any other importance and he was stunned, really, when the New York Public Library selected it as one of the 100 Most Influential Books of the Century. It was the only sports title on the list. I don't think he can still get his head around that. It's something we're very proud of."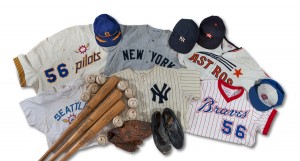 This is not the only treasure that Bouton is making available through SCP. A collector since childhood, he explained why so many pieces of his personal memorabilia were preserved.
"It turned out, and I didn't realize it until many years later, that I was a pack rat. All the way back to Little League in the town I played in, Rochelle Park, New Jersey. It was too small to have Little League, so you went down to the field and chose up sides."
"But he never throws anything out," said Kurman.
"That's right," he continued. "Those gloves that fit perfectly when I had small hands, rather than throw them out, these were like friends. My gloves, and my spikes, and stuff, they were reflexively thrown into a box and every once in a while, my Mother would urge me to get rid of that stuff. I couldn't bear parting with it. I've been having trouble letting go since I was eight years old. By this time, it became a nuisance to my Mother and Paula."
Bouton and Kurman archived everything over a decade ago and had it organized when SCP came calling. While they are keeping some items back, there was one item with great personal meaning to both of them which was to be sold – the New York Yankees Oldtimer's Day shirt has significance to them both. Following his daughter, Laurie's death in an auto accident and his son, Michael, writing a passionate letter to the NY Times; Bouton was welcomed back by the Yankees for Oldtimer's Day in 1998.
"That was the sweater from that very emotional day," noted Kurman. "He could barely walk out there, he was so rubber-kneed. I don't think most fans recognize how significant that shirt is, but I suspect it will acquire significance over time."
Another lot getting attention is the collection of Seattle Pilots memorabilia. The team only existed during the 1969 season before relocating to Milwaukee to become the Brewers, so game-used pieces are incredibly difficult to find. This lot has a game-used jersey in it, but there was another item which Bouton and Kurman did not think would be important – until they were informed of its rarity by Dan Imler, a Vice President at SCP Auctions .
"When Dan Imler came here to the house and went through the stuff with us, we came to what looked to me to be a stained undershirt. It was tagged and marked and Jim immediately recognized it as his Seattle Pilots undershirt. Sure enough, it had his name in it. I just burst out laughing and said, 'Dan, you're lucky I didn't use this as a dishrag!'
"How could that be worth anything," asked Bouton.
In the years that followed the release of Ball Four, Bouton kept busy working in movies and television in addition to making a comeback with the renegade Portland Mavericks minor league club in 1975. He staged a brief comeback with the Atlanta Braves in 1978, but retirement from the game kept him busy as he was one of the driving forces behind Big League Chew.
"I'm trying to remember what I was thinking at the time," he said.
"I think you were thinking about selling it to every kid in America, which you did," said Kurman. "Big League Chew was a thing where he and Rob Nelson worked together and Jim was a good salesman and really managed the business end of it for years."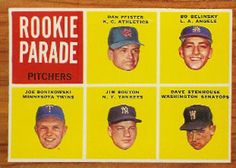 Bouton also spoke about his reaction the first time he saw himself on a baseball card 55 years ago as part of the 1962 Topps set.
"I think it was the first year in the Majors with the Yankees, because I was a rookie," he said. "and I didn't know if one day I would be on a baseball card. I remember how excited I was. 'Hey look, I've got my own baseball card now!' When you're starting out in the Big Leagues, you share with other guys on the same card, so I'm there with Al Downing and some other guys."
Even today, he still gets plenty of requests to sign it alongside Downing.
"I enjoy it. We get cards all the time from people who want an autograph for their cards. Every time I open the envelope, there's a picture of Al Downing and I and I say, 'good morning, Al.' Al does his best to squeeze his name on his side of the card and that leaves me enough room sideways. It's a lot of fun to say hi to each other. We don't speak to each other, but we enjoy each other's company on these baseball cards."
It all comes back to a sense of child-like wonder when it comes to cards and he explained what he would do with them as a child.
"When I was a kid, eight or 10 years old, we would take our cards and put them in the spokes and drive around and these cards would be clattering against the spokes."
"And losing value with every turn," said Kurman.
Sadly, Bouton's health issues derailed plans slightly for another book.
"This is a heartbreaking question that I need to answer," said Kurman. "Jim has been putting notes aside for years about his childhood. He has some wonderful, rich stories of growing up in this small town and with his quirky perspective of things. We even had a title for it, and then the stroke hit and it hit hard on his language center of the brain and it's been very difficult. When the auction is over, I may try to have him record these stories and then edit them. They're there in folders in his desk. It would be a shame not to have them go out because it's the beginning."
Ultimately, where do Bouton and Kurman hope the Ball Four manuscript archive ends up?
"With a passionate fan who has a desire to share it," she said. "We will own the rights to the materials in it, but lending or donating it to an institution for study and research because it's also a really good look at the 60s. It's kind of a time capsule book. We want someone to love it the way we've loved it and I imagine that'sthe only type of person that would buy it."
Stephen Laroche is the editor of Beckett Hockey, Beckett Basketball, and Beckett Sports Card Monthly magazines. Have a comment, question or idea? Send an e-mail to him at slaroche@beckett.com or follow him on Twitter @Stephen_Laroche.