Jesse Owens' Olympic gold medal sells for record $1.4 million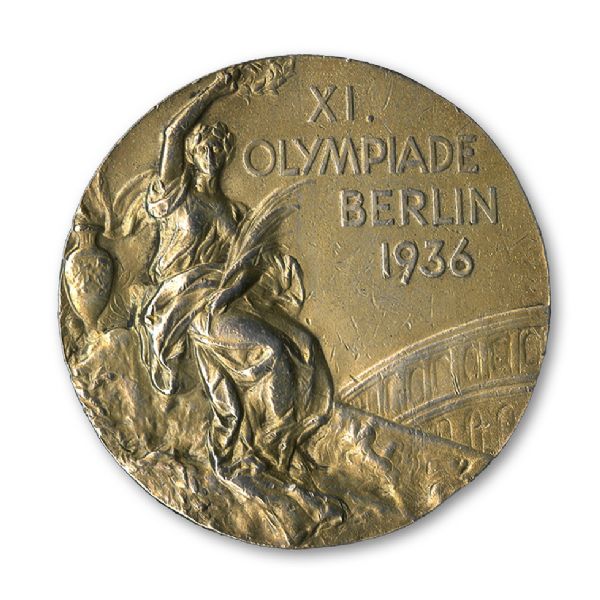 By Susan Lulgjuraj | Beckett Sports Card Monthly Editor
An Olympic gold medal Jesse Owens won at the 1936 Berlin Games has sold for a record $1.4 million through SCP Auctions on Sunday.
Pittsburgh Penguins co-owner Ron Burkle won the medal at auction, according to the Associated Press. He paid $1,466,574.
According to the report, Burkle also owns William Faulkner's Nobel Prize for literature and wants to have an educational tour of the historic pieces.
Owens won four medals at the 1936 Olympics, but this medal couldn't be attributed to any specific event. However, his family confirmed it was real despite not owning it. The family of movie star Bill "Bojangles" Robinson auctioned it after Owens reportedly gave it to his him.
A portion of the proceeds will go to the Jesse Owens Foundation.
The record sale for Owens' medal passed a silver cup awarded to the winner of the first modern-day Olympic marathon in 1896, which sold for $865,000 in April 2012. USA Hockey's Mike Eruzione's items from the 1980 Olympics 'Miracle on Ice' game sold for $657,250 in February.
"We are honored to have handled what we consider to be among the most inspiring sports artifacts ever offered at auction," Imler told the AP. "The worldwide attention garnered by the auction of Jesse Owens' 1936 gold medal and the extraordinary auction result proves that Owens' triumphant legacy continues to endure."
Other items from the SCP Auction include a Jackie Robinson 1949 game-used bat ($183,500), a Jackie Robinson 1955 game-used bat ($128,617), a Jackie Robinson signed baseball ($104,765), a Goose Gossage 1978 New York Yankees World Series ring ($66,734) and a Wilt Chamberlain 1960s Los Angeles Lakers jersey ($60,667).
Susan Lulgjuraj is an editor at Beckett Media. You can email her here with questions, comments or ideas. Follow her on Twitter here. Follow Beckett Media on Facebook and Twitter.