Three memorabilia dealers plead guilty to mail fraud in sales of fake game-used jerseys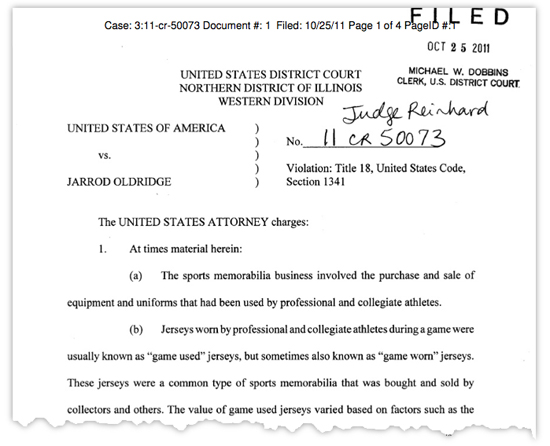 By Chris Olds | Beckett Baseball Editor
The New York Daily News reported on Monday night that three sports memorabilia dealers pleaded guilty to mail fraud on Monday as part of a long-running investigation conducted by the FBI and other federal agencies.
The three dealers were Bernard Gernay of Howell, N.J., Bradley Horne of Sunset, S.C., and Jarrod Oldridge of Las Vegas, who, according to the story "acknowledged that they altered jerseys obtained from retail outlets and other sources to make them appear to be used in games by pro athletes."
Oldridge is the owner of JO Sports Co., a company with deals in place with 14 NFL teams to sell game-used memorabilia. Gernay is the owner of Pro Sports Investments, while Horne is the owner of Authentic Sports Memorabilia Inc.
According to the report, each has entered plea agreements to cooperate with investigators and testify as witnesses in other sports memorabila fraud cases.
While no trading card companies were named in the Daily News report, the story indicated that the jerseys had been sold to the public as well as card companies to be cut up and placed into game-used memorabilia cards.
Typically, trading card licensors allow game-used equipment to be purchased only from authorized dealers and it is unclear at this time which card companies may have purchased from the dealers.
Chris Olds is the editor of Beckett Baseball magazine. Have a comment, question or idea? Send an email to him at colds@beckett.com. Follow him on Twitter by clicking here.