Jeremy Lin's cards soar after impressive nights on the court
When you click on links to various merchants on this site, like eBay, and make a purchase, this can result in this site earning a commission.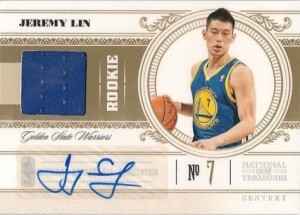 By Susan Lulgjuraj | Contributing Editor
One of the hottest NBA players right now is a guy who didn't get noticed by many scouts. He was usually found at the bottom of reports with nothing more than a line or two.
But over the span of two days, Jeremy Lin has excited basketball fans and card collectors. The secondary-market prices are on a crazy surge – especially for a player who has just one NBA start.
The New York Knicks guard has just 60 cards bearing his name, including 25 autographs and eight Rookie Cards.
Before this week, Lin's cards were easy to find for a low price. But after two games, the undrafted, Harvard graduate has changed his perception, if even for a short time. He scored a career-high 25 points off the bench against the New Jersey Nets in a 99-92 win on Feb. 4.
That got him noticed and few cards were sold on eBay for around hi-book value.
But then in his first NBA start, Lin scored 28 in a 99-88 win over the Utah Jazz.
The prices of his cards skyrocketed.
His 2010-11 Playoff National Treasures Century Materials Signatures /99 has a hi-book value of $40. But obviously that didn't account for the surge prices from the last several days.
On Feb. 7, that card sold for $299.99. Another sold for $260 and the patch version of that card numbered to 25 sold for $250. The patch card had a hi-book value of $80.
In the last day, a dozen of his autographs have sold for more than $150.
How big of a difference does two games make? That Playoff National Treasures auto/memorabilia card sold for $39.95 on Feb. 4, just three days earlier. Another sold for $29.99.
There's no telling how long Lin's card could sustain this current value, but playing in a market such as New York City doesn't hurt the cause. However, there's no doubt of Lin comes back to his previous level – where he is averaging 4.0 points a game in his career – his cards will dramatically come back down as well.
Susan Lulgjuraj is a contributing editor for Beckett Media. You can email Susan here. Follow her on Twitter here.