Jean Beliveau Leaves A Cardboard Legacy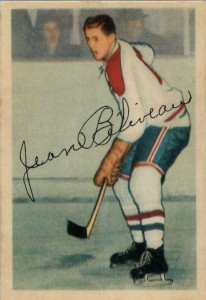 By Stephen Laroche | Beckett Hockey Editor
Late last night, millions of hockey fans were shocked by the news that the legendary Jean Beliveau had passed away at the age of 83. One of the greatest players of the Original Six era, he was an iconic captain of the Montreal Canadiens for a decade and was a part of 10 Stanley Cup championships during his Hall of Fame career.
However, it was the legacy he left behind off the ice that made a greater impact with countless individuals as he carried himself with a tremendous amount of class and grace that has rarely been matched. For collectors, the loss is devastating as he was a link to one of the greatest eras in hockey history and he was praised by many for his willingness to sign autographs and often connect with his fans on a personal level.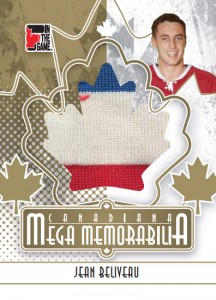 In an official statement issued this morning, National Hockey League Commissioner Gary Bettman expressed his sympathies along on behalf of the league.
"No record book can capture, no image can depict, no statue can convey the grandeur of the remarkable Jean Béliveau, whose elegance and skill on the ice earned the admiration of the hockey world while his humility and humanity away from the rink earned the love of fans everywhere.
"Mr. Béliveau was a formidable presence and his departure leaves an immeasurable void. As we grieve that he has left us, we cherish what he gave us: A sport elevated forever by his character, his dignity and his class.
"For all the accomplishments he achieved and all the accolades he received, Jean Béliveau was always the epitome of the boy whose only dream was to play for the Montreal Canadiens. Hockey is better because that dream was realized. The National Hockey League sends heartfelt condolences to Mr. Béliveau's wife, Élise, and Mr. Béliveau's family, to his countless friends around the hockey world, and to his beloved Canadiens, who he always represented with such distinction and grace."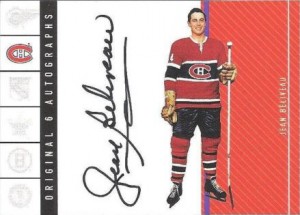 Born in Trois-Rivieres, Quebec, on August 31, 1931, Beliveau took a rather unconventional route to the NHL. In the late 1940s and early 1950s, he was regarded as hockey's brightest prospect and he was a rare free agent in that era since he had not signed a "C" form to align himself with one of the six clubs. Instead, he chose to play senior hockey with the Quebec Aces and spent two full seasons there before finally agreeing sign on permanently with the Canadiens before the 1953-54 campaign. Coveted by every team, the signing was a major coup for Montreal, who had been able to bring him up for five games prior to that time.
Soon after, he would appear on his first NHL trading card as part of the 1953-54 Parkhurst set, and kids throughout Canada were ripping open packs in order to find a card of the popular rookie. He put up a respectable 34 points over 44 games that year and began to break out as a sophomore with an impressive 37 goals and 73 points.
By 1955-56, Beliveau was officially a superstar and led the NHL with 47 tallies in addition to capturing his only scoring title. It was a season that marked his first of five straight Stanley Cup championships as the Canadiens dominated the competition for the rest of the decade. At the start of the 1961-62 season, his teammates chose him as their leader and he served as captain for the rest of his career.
With a fantastic return to glory for the Canadiens in 1964-65, Beliveau's leadership and offensive talent was recognized when he was the first recipient of the Conn Smythe Trophy and that championship victory kicked off what many hockey historians call the "Quiet Dynasty" where the Habs won five Stanley Cups over a seven-year period. By 1970-71, he was poised to retire at the age of 39 and managed to become the fourth player in league history to reach the 500-goal plateau when he scored against Gilles Gilbert of the Minnesota North Stars on February 11, 1971.
Just a matter of weeks later, he helped take the team to a playoff victory over the heavily-favored Boston Bruins before winning the Stanley Cup for the final time as Montreal defeated Chicago in a seven-game thriller. It was a fine way to cap off his career and he was inducted into the Hockey Hall of Fame soon after alongside Gordie Howe.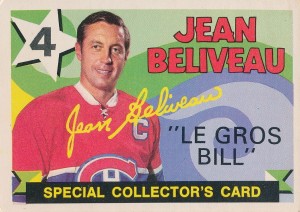 In retirement, Beliveau transitioned into a management role with the Canadiens and the team won seven more titles during his time there. By the time the hobby of collecting autographs and trading cards began to take off, he became a guest that was in high demand and he handled every appearance with his trademark class and grace. Thousands of fans lined up to meet him throughout the years and he treated them all with respect. He was also a prolific signer through the mail and sometimes included a hand-written note to those that took the time to write to him.
For over 20 years, Beliveau was also regularly included in modern trading card products and his autograph and game-used memorabilia cards have traditionally performed well on the secondary market. Perhaps his longest relationship with a trading card manufacturer came with In The Game, who began working with him in 1993 when he signed insert cards for their Parkhurst Missing Link set which sought to fill in the void for collectors that never had a 1956-57 set to put together. Former In The Game and Parkhurst executive Ken Whitmell recounted a story to Beckett Hockey about Beliveau that bears repeating at this time.
"Back in the mid-90s, I was traveling to Montreal to do a signing with Jean Beliveau and Maurice Richard for Parkhurst. I thought it would be a great idea to take my mother with me who is French Canadian and who would remember the two of them very well as she was born a year earlier than Beliveau. My mother, to this day, is always beautiful, well composed and always looking her best. But, there she was standing in the mirror quickly making last minute adjustments as the 10:00 arrival time of the two Montreal legends approached. I asked her what she was doing and in a voice  that sounded like I should know the answer turned to me and simply said.
"Jean Beliveau is coming over"
"And the Rocket," I said.
"Yes, I'm sure he's very nice, but this is Jean Beliveau we're talking about,"  she smiled as she walked away from the mirror.
My mother actually conducted most of the signing that day in French. Beliveau and Richard could not have been more gracious. When I told the two Hab greats that the hotel would be happy to make whatever they would like for lunch they replied with the usual food request from their playing days.
"Just a clubhouse," said Beliveau.
"Yes, a clubhouse would be fine," echoed Richard.
"A clubhouse sounds good," agreed my Mom.
It was a wonderful day."
Beliveau touched the lives of many and his cardboard legacy is quite remarkable as well. He will be greatly missed by the hockey community as a whole and his incredible accomplishments on the ice are pale when compared to the person that he was.
Stephen Laroche is the editor of Beckett Hockey and Beckett Basketball magazines. Have a comment, question or idea? Send an e-mail to him at SLaroche@beckett.com. Follow him on Twitter @Stephen_Laroche.