No matter your collecting preferences or budget, there's a Jared Goff Rookie Card for you. In fact, with so many choices out there, you may find several.
The first overall pick in the 2016 NFL Draft, Jared Goff is no stranger to getting lots of attention in the hobby. But his route has been a little different. Entering his first season, Jared Goff Rookie Cards were hot. That comes with the territory of being the top pick. But the combination of a slow freshman campaign and the one-two punch of Dak Prescott and Ezekiel Elliott in Dallas shifted a lot of that attention away.
Goff put himself back on the hobby map in 2017 with a promising second year. After a trip to the Super Bowl in 2019, Goff's place in football and the hobby have taken a bit of a hit. Now he's off to Detroit.
The Jared Goff Rookie Card checklist has nearly 40 cards. These are just the base cards. When you factor in parallels and other inserts, the quarterback has nearly 2,000 cards just from his rookie season.
Like most modern players, there's a fair bit of variety when you go through the Jared Goff Rookie Card lineup. Some are straightforward and simple. Others are exceptionally rare and command big prices. And if autographs are your thing, there are lots of those as well.
Here's a countdown of the most valuable Jared Goff Rookie Cards, showcasing them all starting with the most affordable and working down to the ones that can fetch thousands. A full gallery is included as well as a list of every card's parallels.
Most Valuable Jared Goff Rookie Card Countdown
Rankings are based on values in the Beckett Football Card Database and Price Guide. Only cards with the RC tag are included here, not inserts and parallels.
---
---
---
---
---
---
---
---
---
---
---
---
---
---
---
---
---
---
---
---
---
---
---
---
15. 2016 Panini Playbook Jared Goff RC Auto Dual Jersey Booklet #101 /99
Parallels: Gold (/75), Platinum (/49), Green (/25), Red (/10), Glove (/5), Black (1/1), NFL Shield (1/1), Nike Swoosh (1/1), Printing Plates Black (1/1), Printing Plates Cyan (1/1), Printing Plates Magenta (1/1), Printing Plates Yellow (1/1)
Buy on: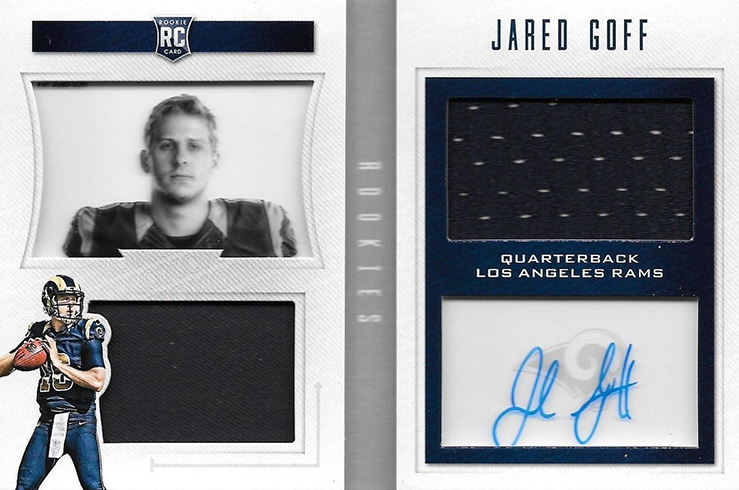 ---
---
---
---
---
---
---
---
---
---
---
---
---
---
---