James Washington Talks Being a Rookie, Having Cards and Collecting Yu-Gi-Oh
James Washington is adjusting to the NFL. A second round draft pick by the Pittsburgh Steelers, he spent his college days at Oklahoma State. David Lee spoke with Washington at the 2018 Rookie Premiere in Los Angeles before the season began.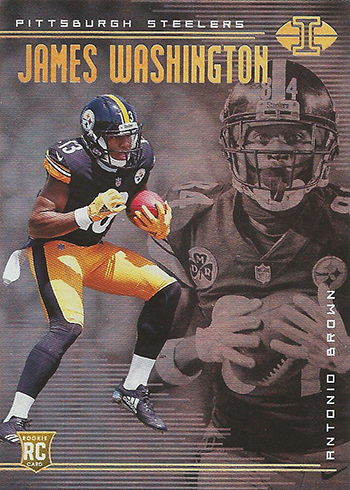 Beckett Media: What was your feeling knowing that you and Mason Rudolph ended up on the same NFL team?
James Washington: For me, I just thought it would make the transition easier. There's a familiar face with me. It's not like I'm having to get used to a new quarterback when Mason's the guy. To have that familiar spin on the ball and that familiar power is definitely going to help the transition and chemistry.
BM: Have coaches talked to you about wanting to keep you guys together?
JW: The coaches like the way we practice together. For both of us, we'll be behind older guys learning this first year maybe. From there, the sky's the limit for us. You just never know how long it is until we're together on the field.
BM: When did you start playing football, and what other positions did you play?
JW: I think it was seventh grade. I did everything. I never came off the field. I kicked field goals. Punt return. Kick return. We only had 27 or 28 guys on the team.
BM: What teams or players did you follow growing up?
JW: I was a big Dez Bryant fan, just because of the area I grew up in. My family was Dallas Cowboys everything. I tried to model my game after him. Plus, playing behind him at Oklahoma State watching film all the time, I tried to take a few things from his game.
BM: How would you describe your playing style to Steelers fans?
JW: They're getting a guy who's going to work hard every day and who's a deep threat. A guy who loves to go catch the long ball and make the plays fans love to see. I'm going to do my job when I'm on the field.
BM: Which veterans have helped you so far?
JW: There's a guy named Marcus Tucker. He's been there for about two years. He's been a real big help for me in this process.
BM: What's the experience been like seeing yourself on all these football cards?
JW: It's pretty cool. I haven't even seen myself in a Steelers jersey, but to see myself on a card is cool.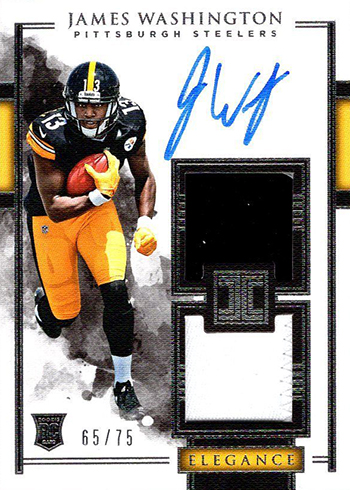 BM: Did you collect cards growing up?
JW: I had Yu-Gi-Oh! cards. Whoever had the biggest power on the card, those are the ones we wanted. We never really played the game.
BM: If you could be paired on a football card with any player in history, who would you want to be on there with?
JW: Michael Irvin. That would be a pretty sweet card.
BM: Who's your pick for Rookie of the Year?
JW: I would probably say myself, but I'm just being confident in myself.
BM: What plans do you have outside of football?
JW: I'd like to do camps for kids. Just have kids who can't afford things and just be that role model for them.
BM: Name someone still at Oklahoma State that collectors should watch out for.
JW: Jalen McCleskey. We call him 'Little Show.' He's going to be a big deal next year. He's a slot receiver.
BM: Who are you most looking forward to playing against?
JW: My buddy Marcell Ateman. He's at Oakland. We play them Dec. 9. Ever since we've been at Oklahoma State, we compete against each other. We're brothers, but at the end of the day, we want to beat each other.