James Holzhauer speaks at The National
James Holzhauer became a national sensation this year by winning more than $2.4 million over 32 episodes of Jeopardy.
He broke into the hobby when Topps featured him in the 2019 release of "Allen and Ginter." Autographed cards go for well over $100 on the secondary market. Topps sent him 200 sample cards, which he said will run out soon since family and friends want them.
Holzhauer seemed to be enjoying himself on the floor.
Some autograph requests are more creative than others pic.twitter.com/CvOoOG8a9i

— James Holzhauer (@James_Holzhauer) August 2, 2019
Fans will be able to see Holzhauer's prowess on the Jeopardy Tournament of Champions, which starts in November.
Holzhauer was a featured guest at the Mike Berkus Main Stage in the Case Break Pavilion at the 2019 National Sports Collectors Convention. He spoke and answered some questions from the audience. Here are some highlights:
On getting ready for the show.
"I had about three weeks to prepare for taping. I had for years come up with the idea that if I did something like this, I would make the most of my shot."
On keeping his winning a secret before episodes aired.
"We tapped five episodes a day, so my wife knew (everything), she was about the only one. We made sure our address and phone number weren't available on the internet before the episodes released."
On participating in the World Series of Poker
"It was an exciting experience. It was an opportunity I couldn't turn down. I donated the winnings to charity, which wasn't much (unfortunately). If was great to test the (skillset) against the best in the world."
On being at his first National and the hobby.
"I'm amazed of the cool memorabilia I see all around me. When I was a kid, there was no baseball-reference.com or Fan Graphs. If you wanted to know somebody's stats, you needed to go get the cards."
On what's next
"I wish I had my future figured out. There are people making great offers to me, but I have a kid to worry about, so I have to figure out what's best for us, not just me."
Throw (way,way) back cards
One small item has garnered a huge sum of attention at Booth 830.
Baseball Card Exchange Inc., which is known for its antique cards, has a small set of 1952 Topps baseball 5 cent wax pack lot of 8. It's wrapped in cellophane as a brick. It's the oldest unopened set offered at the booth, obviously.
It's part of an 80-pack that was found around 25 years ago, each wrapped in sets of eight. It came to Baseball Card Exchange the same way items usually do, by word of mouth before owner Steve Hart decided to purchase it.
The item sits front and center at the booth. It's listing price is $575,000.
Hart doesn't expect to make a sale at the show (imagine making the purchase and figuring out how to get it out safely). But he is hoping to begin the process of a sale for pickup at his store Schererville, Indiana.
There is a story behind these cards. Why, after almost 70 years, have they stayed unopened. What was the purpose of the cellophane wrap? Why groups of eight? We will probably never know. But stories like these are why we love the hobby.
Nice catch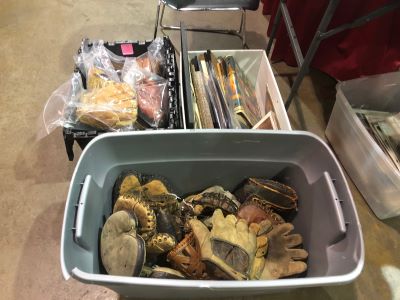 Stationed at many booths are items that look more like they came out of a garage sale than packed for The National.
Old baseball gloves are popular at shows across the country. But why?
On the surface, it seems silly. They are deteriorating pieces of constructed leather. They can't (and honestly never should be) used again.
But this hobby isn't about surface-level thinking.
Like other pieces of memorabilia, old or antique baseball gloves are a funnel to the past. It's a reminder of how things used to be. Many collectors purchase them because they are similar or even the same as when they were young and fell in love with baseball. It coincides with when they fell in love with collecting, too.
Same goes for old helmets, catcher's equipment. Those items aren't far behind game-used items, in terms of sell and trade.
"They go for it," said Denny Graziano, who sells those items at Booth 1113 and 1115. "There is a niche for everything."