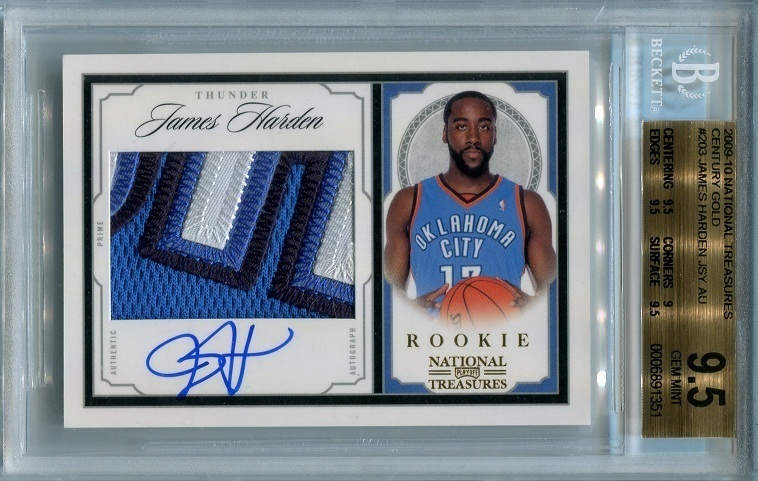 By Chris Olds | Beckett Basketball Editor | Commentary
From sixth man to main man in seven days.
When the Oklahoma City Thunder traded reigning Sixth Man of the Year James Harden a week ago today, more than a few pundits figured that this would be his chance to become a leading man in the NBA.
It didn't take long. After two games in a Houston Rockets uniform, he's already there.
In the second game of his Rockets career Friday night, the shooting guard scored a career-high 45 points. In the season-opener on Wednesday, he scored 37 while dishing out a team-high 12 assists — more than fellow Houston newcomer and point guard Jeremy Lin, who did a little card-selling of his own last season.
This kind of showing, of course, has resulted in some brisk selling of his cards, autographs and memorabilia.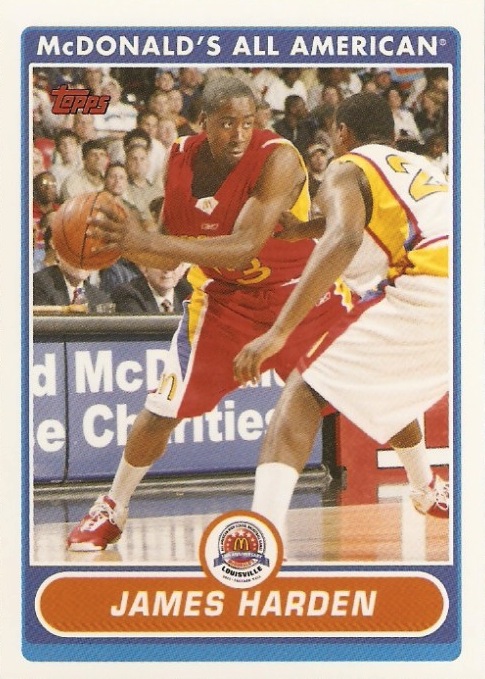 Harden has appeared on 546 cards since his debut in 2009-10 NBA products, and he's got a bit higher cardboard statistics in some categories reflecting the slightly different basketball card landscape of that time. Specifically, he appears on 27 Rookie Cards from Panini America, Upper Deck and Topps — the latter two were in the final stretch of their NBA deals — while he appears on 195 certified autograph cards.
In all, Harden's portfolio is presently valued at more than $12,794 not including those cards that are too rare to track a reliable price range.
Harden's earliest cardboard actually stems from his appearance in the 2007 McDonald's All-American Game, which had its players — a roster that also included Blake Griffin, O.J. Mayo, Derrick Rose, Eric Gordon and Kevin Love — showcased on a pair of Topps sets. One set featured action photos, while a second featured portraits on the cards, which were to be autographed and distributed in packs when the player was eligible and signed a deal with Topps as a pro. (A limited quantity of those cards arrived in 2009-10 Topps.)
Harden presently has 16 certified autographs that are tracked at $100 or more with two National Treasures from Panini America cards leading the way. His 2009-10 Playoff National Treasures Century Gold jersey autograph is limited to just 25 copies and typically sells for about $800, while the standard version of that card (limited to 99) typically sells for $700.
Speaking of ink, Harden also has a new contract — five years, $80 million — and perhaps a few more fans after those first two games.
The only thing we have to wait on now?
His first Houston Rockets card.
Chris Olds is the editor of Beckett Basketball magazine. Have a comment, question or idea? Send an email to him at colds@beckett.com. Follow him on Twitter by clicking here.