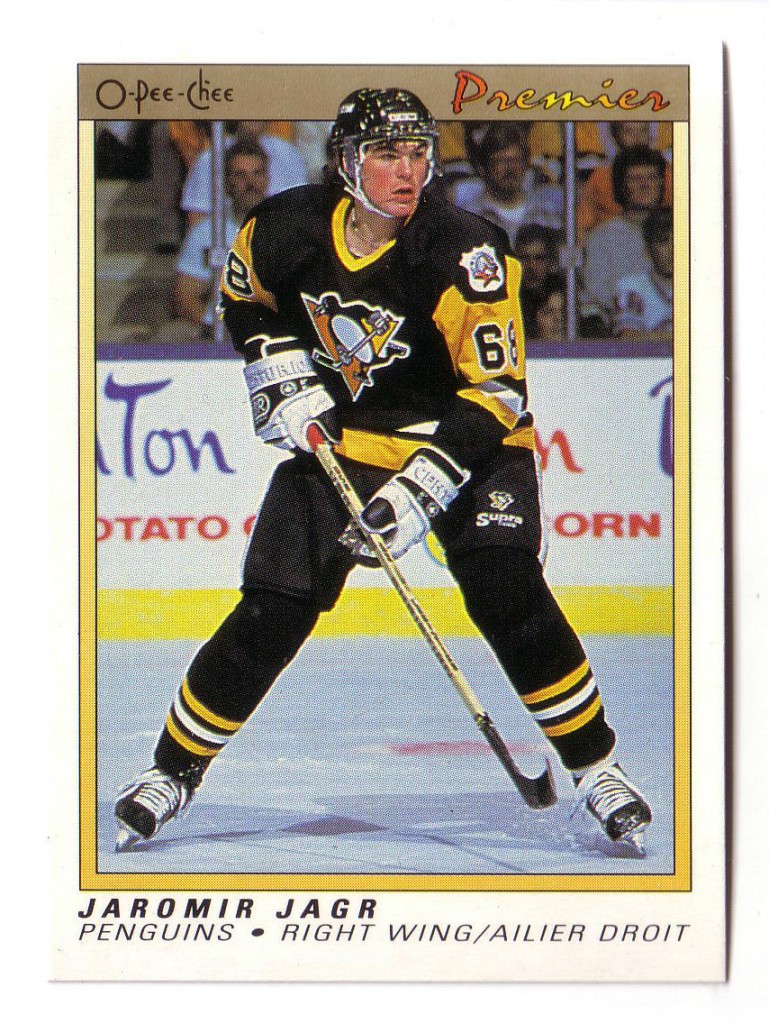 By Susan Lulgjuraj | Beckett Hockey Editor
The puck found Jaromir Jagr's stick, he flicked it toward the net and it sailed passed Edmonton goalie Devan Dubnyk.
The goal won it for the Dallas Stars in overtime, a much-needed win in a short season, but the goal meant more for the history of the game.
Jagr's 668th career goal put him for tenth place with Luc Robataille on the all-time scoring list.
Jagr has been in the league since 1990, and seems to still be going strong at 40 years old. He has eight points in 10 games this season.
Jagr has 4,469 cards in the Beckett database (To see a full Jagr checklist, click here) with a total value of $71,242.
His cards span the spectrum of eras. He has seven Rookie Cards, but the cards came at a time when they aren't as valuable. His best Rookie Card – 1990-91 O-Pee-Chee Premier #50 – has a high book value of $10. A graded one of these cards usually sells for a bit more money.
Some of Jagr's most valuable cards from the late 1990s and early 2000s.
And not all of them autographed cards.
Jagr's most valuable cards
1998-99 Topps Gold Label Class 3 Red #5 /25

2003-04 Upper Deck 500 Goal Club #500JJA AU /25

1999-00 Topps Premier Plus Club Signings #CSC3 AU with Mario Lemieux

1999-00 Upper Deck Game Jersey Patch #JJP

2001-02 McDonald's Pacific Jersey Patches

1996-97 Upper Deck Ice Stanley Cup Foundation Dynasty #S7 with Lemieux
Jagr Rookie Cards
1990-91 OPC Premier #50

1990-91 Pro Set #632

1990-91 Pro Set #632

1990-91 Score #428

1990-91 Score #428

1990-91 Upper Deck #356

1990-91 Upper Deck French #356
Susan Lulgjuraj is an editor of Beckett Hockey. You can email her here with questions, comments or ideas. Follow her on Twitter here. Follow Beckett Media on Facebook.