Jacoby Jones excites at Super Bowl, Rookie Cards spike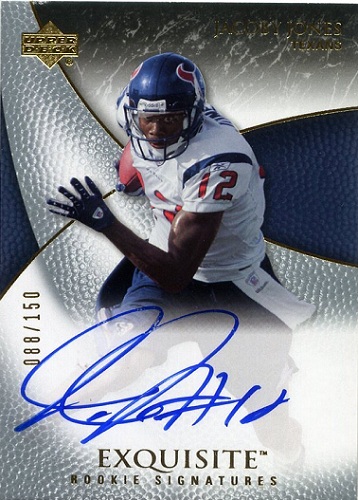 By Susan Lulgjuraj | Beckett Football Editor
When thinking of the Baltimore Ravens receiving corps, Jacoby Jones' name doesn't immediately come to mind. The speedster makes more noise returning kickoffs or punts.
That's where he shined against the San Francisco 49ers.
The 2007 draft pick gave football fans the most electrifying play of Super Bowl XLVII when he returned the opening kickoff of the second half 108 yards for a touchdown.
Jacoby Jones – now you will remember it.
That was Jones' second touchdown of the game. Even though he didn't catch as many passes during the regular season – just 30 for 406 yards – as his many of his teammates, Jones was an early target for Joe Flacco in the Super Bowl.
Flacco hit Jones down the middle for a 56-yard touchdown that put the Ravens up 21-3 in the second quarter.
Jones had one of the greatest games of his career on the biggest stage.
Collectors noticed the New Orleans native as well. His card prices jumped overnight with rare cards selling for hundreds of dollars, and his 2007 Exquisite Collection autographed Rookie Card selling for more than the high book value of $30. The average price of the card sold on Sunday was $51.14.
A week ago, that same Exquisite card could be had for around $10.
Two touchdowns in the Super Bowl can do that.
Key Jacoby Jones Rookie Cards (Click here for a complete OPG and checklist)
– 2007 Exquisite Collection #76 AU RC /150

– 2007 Playoff Contenders #160 AU /435

– 2007 Topps Triple Threads #141 JSY AU RC /99

– 2007 Leaf Limited #321 AU RC /99

– 2007 Playoff National Treasures #145 AU RC /299
Susan Lulgjuraj is an editor of Beckett Football. You can email her here with questions, comments or ideas. Follow her on Twitter here. Follow Beckett Media on Facebook.