Jack Eichel signs exclusive autograph card deal with Leaf Trading Cards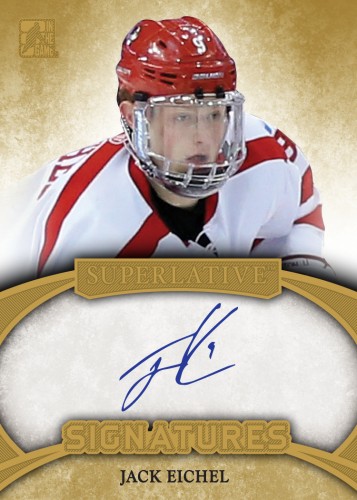 By Stephen Laroche | Beckett Hockey Editor
The world of hockey card collecting is bracing for a strong 2015-16 season due to a strong rookie class. One of the hottest young prospects around made headlines today as it was announced that Jack Eichel of the Buffalo Sabres has signed an exclusive trading card autograph deal with Leaf Trading Cards.
Purported to be the richest rookie deal ever signed by a hockey player, it will run for multiple seasons and Leaf will be the only place where you can pull one of his signed cards from a pack. The first of these autographs are set to hit the market once 2015-16 Leaf Superlative is released in November.
"Working with Jack Eichel along with Peter Fish and Mark Witkin at Global Hockey Consultants has been an exciting process," said Leaf's CEO, Brian Gray, in a press release. "We are excited that we could reward Jack's awesome talent with this record-setting deal, likely making this the most-exciting day in my career at Leaf!"
Why did Leaf pursue this landmark deal with Eichel? Find out exclusive details from Beckett Hockey's interview with Gray after the jump.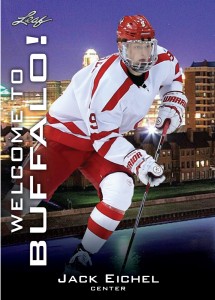 "I'm excited," he noted in an interview with Beckett Hockey, "It's a deal that has loads of upside for collectors and the fact that he has no autographed cards out there is huge. It's a unique situation because with the CHL stuff, and with other stuff that's out there, it's not often that you have a rookie come out that has no autographs out there. So, this is a unique situation for us to really manage his collectability and I can tell you now that the first autographs are in Superlative and they're rare. They're going to go for a lot of money because we know that on day one of a high-end release, if we make a truly limited and desirable card of Eichel, we know the demand is there to make the sky the limit for a card like that — and it's going to be limited enough to where the sky really is the limit. He was a last-second addition because we've already printed Superlative, so at the last second, we slid him in, so it should be interesting."
While Gray has traditionally been a critic of exclusives within the hobby, he explained why he was compelled to take this approach with Eichel.
"It's great to think about exclusives, generally, but when you're in a one-horse town like this, it's a pretty aggressive battle to get the guy you want," he said. "Generally, I do not like exclusives. I'm well on the record for saying that. I don't think it's good for the industry, and in this case, before Connor McDavid was signed by Upper Deck, I did reach out to Upper Deck with a proposal of no exclusives because I think this is the way the industry needs to go. Hockey is one of the last categories that really has been best served by there not being exclusives on current players, and in this case, that wasn't in the cards for our competitor. So we looked and saw that we had the greatest American hockey prospect ever, maybe, and the guy has a chance to be epic. I think in year one, Jack Eichel has a very good chance of beating Connor McDavid for Rookie of the Year. I do believe that.
"The fact is, initially, I had no intention of signing an exclusive deal with anyone. Our intention, originally, was to do a deal with both guys and just do a card deal. But again, I always feel what's best for the hobby is everybody having choices. That's really what In The Game and Leaf are, even outside of hockey and in other categories. Leaf is the choice company, so if you want to have choices and collect for value and get good value for your dollar versus maybe the logos as an expense in some places, we give you that opportunity. But when choice is taken away, we want to make sure we have something special to offer customers, and we figured, by signing one of the most elite prospects in years, one side was not amicable and the need across the industry was not seen the way that I see it, for everyone to have an option for everything, then we figured that we had an opportunity to sign an incredible player who we think, in the short term, is the most NHL-ready prospect to maybe ever come out. We spared no expense to do so, because frankly, as I put in our press release, Eichel's deal is the most rich rookie autograph deal in the history of hockey and it puts him in very elite company."
But is Gray expecting any negative response from the NHL or the NHL Players' Association on the deal?
"No, not at all," he said. "First off, you may have noticed this, but Leaf has continually used less and current NHL players with images. That's something where we're constantly looking at the future and we know that the future's an ever-changing place and Leaf is becoming a force in hockey. Whether you were a fan of In The Game before or not, which I think many people weren't, they had a very unique identity. I think we're trying to mainstream ourselves a little more, even. We feel comfortable when the time comes some day down the line, people are going to look at Leaf with a very serious eye when it comes to different opportunities, whether it's licensing, whether it's future players in the marketplace, and that they want their brand to be more boutique instead of mass-produced to the tune of 20-plus releases. You never know, so what we're trying to do is constantly to work in a favorable way with the licensors, even when we don't have a license when you don't know what the future holds."
Gray was also quite excited about the impact Eichel will have among collectors and fans in Buffalo and thinks that the Boston University product will make a name for himself quickly.
"He's going to capture the imagination of a town that needs to be captivated. If he had gone to Toronto, they've got great hockey there and great players. Buffalo's got some great players, but this is a game changer for them. This is the brightest spot in their hockey future, pretty much in the history of the franchise, so they've got a real opportunity. In Edmonton with Connor, you have a string of number one picks, so they've got a good young nucleus there. I personally, as a guy who is starting to learn the game, I just feel that Jack's in a position to be a team star on day one and he's going to have the ability to make a huge impact whereas in Edmonton, I think Connor is going to have to share a little bit of the limelight in the beginning. He's going to have some good young players around him, but I think Jack's in a perfect situation to put up incredible numbers and to be a local hero at least right away."
Gray noted that it is a longer-term deal that will run more than two years and it does not preclude Upper Deck from producing base or memorabilia cards of Eichel. He also expressed concern about maintaining the secondary market value for the young star's signed cards.
"The big thing is that we're going to protect the value of his autograph, because we think that's important. We're going to put enough in the product so collectors can actually get a Jack Eichel autograph over time."
Stephen Laroche is the editor of Beckett Hockey. Have a comment, question or idea? Send an e-mail to him at slaroche@beckett.com. Follow him on Twitter @Stephen_Laroche.