Jack Eichel and Nico Hischier Autographs Coming from Upper Deck
Jack Eichel and Nico Hischier have yet to have any certified NHL autograph cards included directly in packs. But that's about to change. Upper Deck has signed both of the young stars to autograph deals.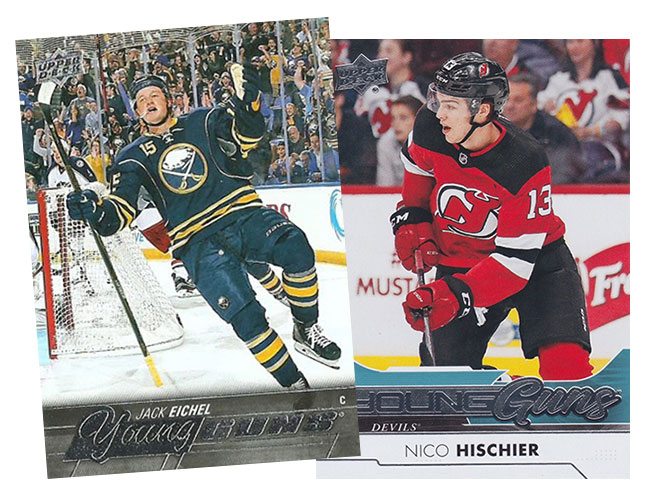 The announcement came at Upper Deck's Certified Diamond Dealer Conference in Los Angeles.
Upper Deck announced today at the 2019 #CDDConference the company has signed autograph trading card deals with Jack Eichel and Nico Hischier. Look for their first hard-signed autograph cards in 2018-19 NHL SP Authentic! More details to come!

(Card imagery is subject to change) pic.twitter.com/ouS9OCrZLS

— Upper Deck (@UpperDeckSports) January 10, 2019
Upper Deck Announces Jack Eichel and Nico hischier Autograph Deals #upperdeckcdd #nhlpa

— mojobreak (@mojobreak_com) January 9, 2019
Previously, Eichel and Hischier had exclusive deals with Leaf. Because Upper Deck has the exclusive NHL card rights, that meant no rookie autographs with their team logos. The first are slated for 2018-19 SP Authentic Hockey.
That's about to change and collectors can expect to see some autographed "cards that never were."
Upper Deck also announced that they've signed a deal with the NHL Alumni Association. This gives the card maker access to hundreds of retired players for their products.
And speaking of retired players, one place you'll find them is in the new Upper Deck Chronology Hockey, the first part of which is all players from the past.
NEW PRODUCT ALERT! Upper Deck Chronology hockey uses the previously made NBA Chronology look with a first release of just retired players and a modern set to follow. Art cards, combo cut signatures and more to be announced…@SportsCollector

— Michael F (@MikesStadiumSC) January 9, 2019
A similar format was used for basketball in 2006-07.