J.T. Realmuto's Breakout Season – Beckett Pricing Insider
This edition of the Beckett Pricing Insider is sponsored by MVP Sports Collectibles.
While he isn't one of the big free agents this off-season like Bryce Harper or Manny Machado, J.T. Realmuto certainly made a name for himself in 2018. And could be one of the biggest moves between now and the start of Spring Training should Miami decide to move him.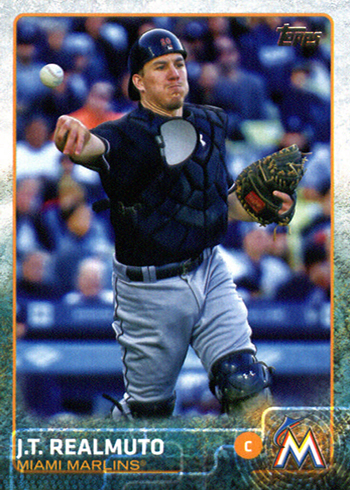 Realmuto is into his second year of arbitration and the Marlins have control until he qualifies for free agency in 2021. As an All-Star and recent Silver Slugger Award winner, the catcher plays a position where it is getting harder and harder to find top talent. Most of the star catchers today like Buster Posey are starting to fade or they are getting towards the end of their careers, such as Yadier Molina. We can see why a player with his skills is so highly coveted at this time.
J.T. wasn't always a catcher though.
Originally from just outside Oklahoma City, Realmuto went to Carl Albert High School where he was a multi-sport star who won three state championships. One was with the football team where he was the starting quarterback. Two came in baseball where he was the starting shortstop. But on the day the Marlins' scout came by, J.T. wasn't playing Shortstop, he was catching, as their normal catcher was pitching that day. The scout must have liked what he saw because the Marlins would draft Realmuto in the third round of the 2010 MLB Draft and gave him a $700,000 signing bonus.
Realmuto was called up for the first time on June 1, 2014 and would play in just 11 games his first year. For 2015, Realmuto was originally assigned to Tirple-A but after an injury to the starting catcher, J.T. was called up and was named starter. He has continued to learn and improve his skills around the plate, helping him to earn an All-Star appearance in 2018.
Realmuto doesn't have too much stuff out there to collect just yet with just over 400 cards. If you're looking for an autograph, there's only a handful or so sets to look for. One of the signature highlights is 2016 Topps Finest. These cards feature the chrome-like stock and the autographs are on-card. There is a base version along with multiple serial numbered parallels that create a rainbow of colors that is very visually appealing. The base versions of these are highly available at a pretty good deal with sales ranging from $6 to $15.