It's not a first for Joe Namath in National Treasures … but it's darn close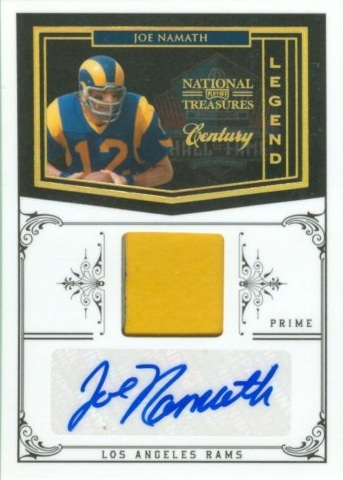 By Chris Olds | Editor
One card in the newly released 2010 National Treasures features a guy we've seen on football cards plenty of times — in fact, we've seen him on 1,669 different cards through the years according to his player page in the Beckett.com database.
But we really haven't seen him on a card like this.
You see, Joe Willie Namath — aka "Broadway Joe" — appears on an autographed game-used jersey card in National Treasures as a Los Angeles Ram.
If you're a long-time Namath fan, the sight of it should make your knees buckle — and not as a tribute.
For those who might not know, Namath finished his Hall of Fame career in Los Angeles in 1977. He played in just four games, throwing for just three touchdowns and 606 yards. Not exactly a Hollywood ending for the guy best remembered for challenging Paul "Bear" Bryant's authority at the University of Alabama and for his fast-living and fur coat-wearing antics on the sidelines as quarterback of the New York Jets.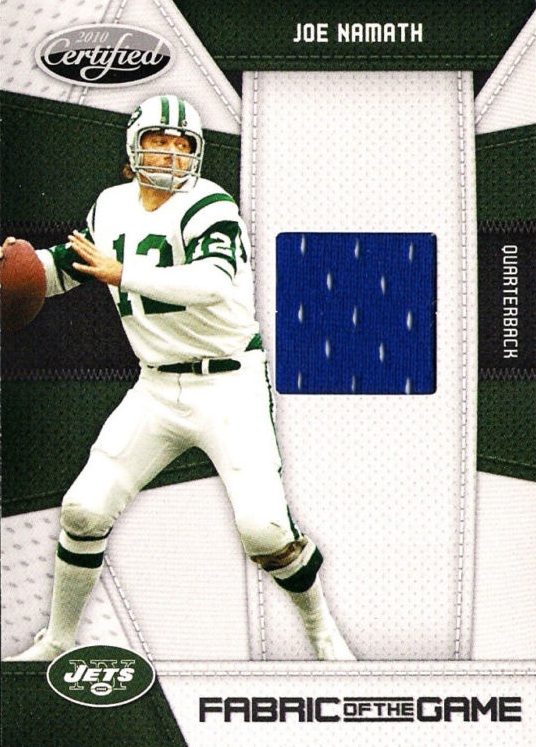 My knowledge of football cards isn't exactly encyclopedic, but I'm pretty sure that the cards (he has several) in National Treasures that show him as a Ram are a first. (Let me know below if I'm wrong.)
However,  Panini America did sneak some blue Rams jersey swatches into 2010 Certified cards released earlier this season. The NT card, however, is the first to use swatches from the Rams jersey and autographs in conjunction with a photo of Namath in a Rams uniform.
Could there be cards coming in the future that include pieces of Namath jerseys from both teams? It certainly adds to the possibilities.
Chris Olds is the editor of Beckett Baseball. Have a comment, question or idea? Send an e-mail to him at colds@beckett.com. Follow him on Twitter by clicking here.