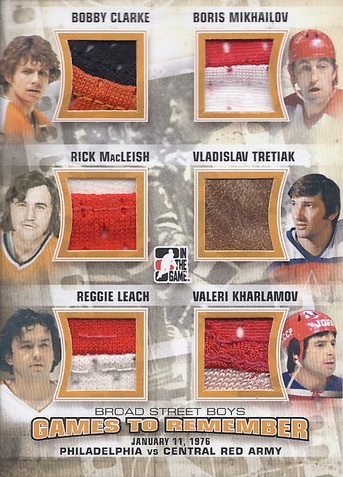 By Susan Lulgjuraj | Contributing Editor
In the Game's latest hockey product focuses on a long-time franchise.
Broad Street Boys is all about the Philadelphia Flyers with many of its greatest players featured on autograph or memorabilia cards.
The product sold out from ITG's warehouse and has had some decent sales on the secondary market. Recently, a 1/1 patch card from the Games to Remember subset with Flyers' Bobby Clarke, Rick MacLeish, Reggie Leach against the Central Red Army's Boris Mikhailov, Vladisov Tretiak and Valeri Kharlamov sold for $2,025 on eBay. The game represented on the card was played Jan. 11, 1976.
Some of the other players in Broad Street Boys include Rod Brind'Amour, Jeremy Roenick, Dave Schulz, John Leclair, Eric Lindros, Ron Hextall, Jeff Carter and others (Need a 2011-12 Broad Street Boys checklist or OPG? Click here).
With the success of Broad Street Boys, does ITG plan on producing other sets that focus just on teams – perhaps something from the Original Six? If that's the case, what teams would you like to see ITG focus on next?
Read a short interview after the jump with ITG's Dr. Brian Price.
Q. When did the idea to focus on one team come about?
A. We have done a single team before. Superlative Franchise featured the Toronto Maple Leafs, Superlative Bleu Blanc et Rouge featured the Montreal Canadiens.
Collectors emailed me to do a product featuring the Philadelphia Flyers and I chose to use this type of configuration rather than the Superlative type configuration. The concept was born around the beginning of 2011. It took some time to acquire all of the players' right and autographs that we wanted to do this project properly.
Q. Why the Flyers? What is about this franchise that was so special?
A. Again, this was done in response to the passionate ITG/Flyers fans. Enough collectors asked for it, so I chose to give them what they wanted. Making products with different names featuring the same players over and over again is getting tiring, in my opinion.
Q. When putting together a product, how often do you consider the secondary market for collectors? One of the 1/1 sold for a tremendous price from this Broad Street Boys?
A. We can't be driven by this but we have to be conscious of it at the same time. We make products for "collectors" and we put collectors first. We try and collate our boxes to insure value in each box, that is our goal.
Q. Despite limitations with licenses, what do you do to work around not having them?
A. We work smarter, harder and longer than anyone else. We don't look at licensing as "limitations" we look at it as "opportunity".
Q. Any other sets planned for teams such as the New York Rangers or Boston Bruins?
A. We do have a couple in the planning stages, stay tuned.
Susan Lulgjuraj is a contributing editor for Beckett Media. You can email Susan here. Follow her on Twitter here.