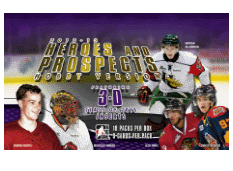 By Susan Lulgjuraj | Beckett Hockey Editor
In The Game's Dr. Brian Price weighed his options.
Last summer, he was presented with a proposal – the opportunity to receive an NHL Players Association license for one year, producing two releases. Create NHLPA-licensed cards, and utilize rookies and stars in a potential locked out season? Or continue ITG's strategy?
Price turned down the proposal.
"Sometimes the deals you don't make are your best deals," Price said.
Had he accepted the proposal, Price would have suffered from this season's lockout and the loss of new Rookie Cards, a decision announced Wednesday by the NHLPA.
The exclusion of additional rookies in 2012-13 should have the greatest impacts on card store owners, something that worries Price.
"I have great concerns for the dealers whose primary sales come from hockey trading cards. While these dealers struggled during the hockey lockout, they anxiously waited for the game to get back on the ice so that they could enjoy 'business as usual,'" Price said. "Well the lockout was resolved, but this announcement seems to be just as devastating.
"Let's face it – the dealers are the core of the industry and without them, collectors would not be able to find the products they are looking for."
Even so, Price understands how he can affect the marketplace. He still intends to produce products such as Heroes and Prospects coming out at the end of January and Motown Madness coming out in February. Price will also increase dealer programs to help traffic, a way to offset this season's diminished card offerings.
The shortened NHL season officially starts Saturday. While hockey fans are happy the league is playing again, this is a bittersweet time for collectors – and that's how Price also sees himself. He's makes hockey cards, but he is also a fan and a collector.
"As a collector myself, I don't feel that this decision is a good one," Price said. "There is a season, although shortened. There are rookies playing this year. It is not like the 2004-05 season where there was no choice."
While Price is disappointed by the decision to exclude new rookies, he also realizes how difficult the situation was.
"I am sure there are factors that went into this decision that are way over my head," he said. "If both Upper Deck and Panini agreed to this solution, then who am I to judge their rationale?"
Susan Lulgjuraj is an editor of Beckett Hockey. You can email her here with questions, comments or ideas. Follow her on Twitter here. Follow Beckett Media on Facebook.