ITG shows off skate lace cards in Superlative III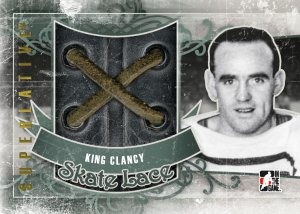 By Susan Lulgjuraj | Beckett Hockey Editor
Seems the latest trend for this year's hockey products is laces.
First, Panini hit collectors with jersey laces. Now, In The Game is bringing skate laces to collectors in Superlative III.
Superlative Laces features skate laces from a number of different players such as Jean Beliveau, Pavel Bure, King Clancy (which looks like a leather lace) and Tim Horton.
Superlative Volume III is scheduled to come out in time for the Fall Expo, which starts Nov. 9 in Toronto.
While the laces are one part of Superlative, there are other inserts included in the product known for its big hits. ITG is bringing back jumbo patches for Superlative.
Check out the gallery of the Superlative Laces and Superlative Patches. In the meantime, here's a preview of the product from August.
Susan Lulgjuraj is an editor of Beckett Hockey. You can email her here with questions, comments or ideas. Follow her on Twitter here.