ITG reveals redemptions for 2012 Fall Expo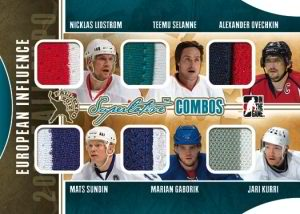 By Susan Lulgjuraj | Beckett Hockey Editor
In the Game will showcase two of its products at the 2012 Fall Expo, and collectors have a chance to get exclusive expo cards.
Forever Rivals and Superlative Hockey Volume III will be highlighted at the 2012 Sportscards & Memorabilia Expo, both of which will be available at the show.
To get the exclusive game-used cards, open a box at the In The Game booth at the expo.
One box of Forever Rivals will get collectors one Forever Rival-themed memorabilia card that feature two, four or six pieces of memorabilia.
Athletes on the checklist include Jean Beliveau, Johnny Bower, Guy Lafleur, Patrick Roy and Felix Potvin.
In addition, all those who redeem a box of Forever Rivals will be eligible to win a Forever Rivals commemorative art piece by Paul Madden, whose work has appeared in many ITG products.
Each collector opening a box Superlative Hockey Volume III at the ITG booth will get two exclusive team Superlative Game-Used Memorabilia cards. These cards will feature three, four, five and six pieces of memorabilia. Each card will be limited to 10, including one gold 1-of-1.
Players on Superlative Volume III exclusive checklist include Roberto Luongo, Carey Price, Mats Sundin, Mario Lemieux, Luc Robataille and Marion Gaborik.
ITG will also hold several contests and games at its booth.
Susan Lulgjuraj is an editor of Beckett Hockey. You can email her here with questions, comments or ideas. Follow her on Twitter here.