ITG offers two Emerald Masked Men redemptions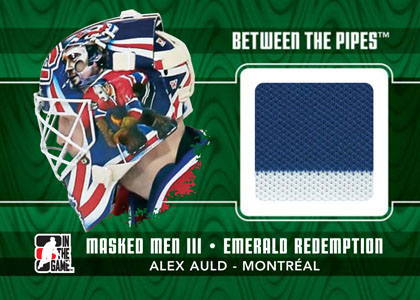 By Andrew Tolentino | Hockey Editor
Following In The Game's announcement and apology about incorrectly-serial-numbered Masked Men III Emerald cards, the company announced a redemption program this week.
The first public statement served to clarify that these Between the Pipes inserts are actually limited to 340— and not 1/1 as the cards would indicate. However, in an effort to give collectors some cardboard recompense, In The Game presented not one, but two new deals.
Details and mailing information after the jump.

Deal, the first (straight from the mouth of the manufacturer):
"Send in 17 Emerald Mask Men Cards for any individual player listed below and receive a Masked Men Game-Used Memorabilia card numbered to ten of the player you have redeemed."
Cam Ward
Carey Price
Corey Crawford
Dwayne Roloson
Henrik Lundqvist
Ilya Bryzgalov
James Reimer
Jaroslav Halak
Jimmy Howard
Marc-Andre Fleury
Martin Brodeur
Michal Neuvirth
Miikka Kiprusoff
Pekka Rinne
Rick DiPietro
Roberto Luongo
Ryan Miller
Semyon Varlamov
Sergei Bobrovsky
Tim Thomas
Deal, the second (straight from the mouth of the manufacturer):
"Send in any 17 Emerald Mask Men Cards and receive a random Masked Men Game-Used Memorabilia card numbered to twenty from the players listed below. This program is similar to the He Shoots He Saves program as the redemption card is random from the list below."
Alex Aluld
Andrew Raycroft
Antero Niittymaki
Antti Niemi
Brent Johnson
Brian Boucher
Brian Elliott
Chris Mason
Cory Schneider
Craig Anderson
Curtis McElhinney
Dan Ellis
Devan Dubnyk
Jason LaBarbera
Jean-Sebastien Giguere
Johan Hedberg
Jonas Enroth
Jonas Hiller
Jonathan Bernier
Jonathan Quick
Kari Lehtonen
Marty Turco
Mathieu Garon
Niklas Backstrom
Ondrej Pavelec
Pascal Leclaire
Patrick Lalime
Peter Budaj
Tomas Vokoun
Tuukka Rask
Although obtaining 17 limited inserts of any given player (Deal, the first) might be easier said than done, accomplishments from either program should be sent to one of two national offices.
Canada
In The Game, Inc.
Customer Service
9200 Weston Road P.O. Box 92066
Vaughan, ON, L4H 3J3
U.S.
In The Game, Inc.
09-10 Heroes & Prospects HSHS
2421 Hyde Park Blvd.
Niagara Falls, NY 14305
Participating collectors should expect to receive their redemption(s) within eight to six weeks after In The Game has received their card(s). Both redemption opportunities require collectors to send their submission(s) by April 30, 2012.