Is This Jeffrey Dean Morgan's Autograph? Jeffrey Dean Morgan Says No
It started with a fan pulling a Jeffrey Dean Morgan autograph card out of a box of 2018 Topps Walking Dead Autograph Collection.
They tweeted their excitement out to the actor.
I paid topps £50 for a boxed auto (any random auto) and im soo happy i got @JDMorgan pic.twitter.com/NfsXU5HMTR

— G Rhee🎈 (@ProtectorGlenn) July 23, 2019
But, it probably not with a response the collector was expecting. Morgan claimed it wasn't his signature. Not only that, but the actor pointed out some very specific reasons why he's "87% sure" it's not his.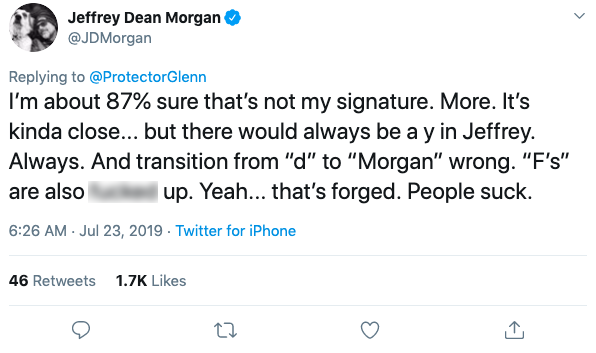 Continuing the conversation, Morgan showed he was familiar with his Topps signings and how he does his autographs for them.
I just know the flow of it. It can get sloppy… but when I do topps cards I try to take my time a bit more. Generally sign entire name. I'd never sign "jeff d mor….."

— Jeffrey Dean Morgan (@JDMorgan) July 23, 2019
So what's happening here? Does it fall under Morgan's 13 percent chance that it's authentic? Did the wrong sticker get put on the card? Is that a signature from another Walking Dead actor named Jeffrey, perhaps?
Put the wrong sticker on the card…that's Jeffery Demunn's auto

— DPalagi518 (@DPcards) July 23, 2019
DeMunn doesn't have a Topps autograph card but he did sign for Cryptozoic's Walking Dead Season 2 set in 2012. Here's what his signature looks like.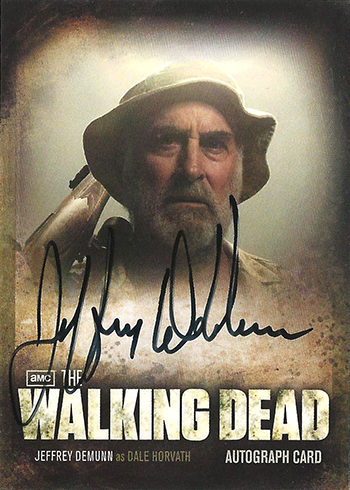 Comparing Jeffrey Dean Morgan's Autographs
Morgan has signed several cards for Topps in the past with the vast majority being on-card.
Here's an example of a sticker autograph from 2018 Topps Walking Dead Road to Alexandria.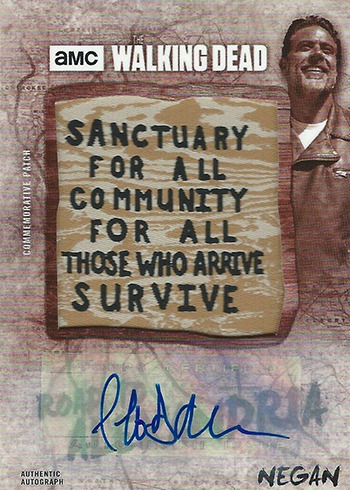 We did not receive an immediate response from Topps regarding the situation. The company's Twitter account did encourage the collector to get in contact with their customer service department.
Please contact customer service at 1800-489-9149. They open at 9 am ET tomorrow.

— Topps @ #SDCC Booth 2913-B (@Topps) July 23, 2019
We will provide any updates as we receive them.