Is the 2011 Bowman Chrome Bryce Harper Autograph the Hobby's Next $1,000 Card?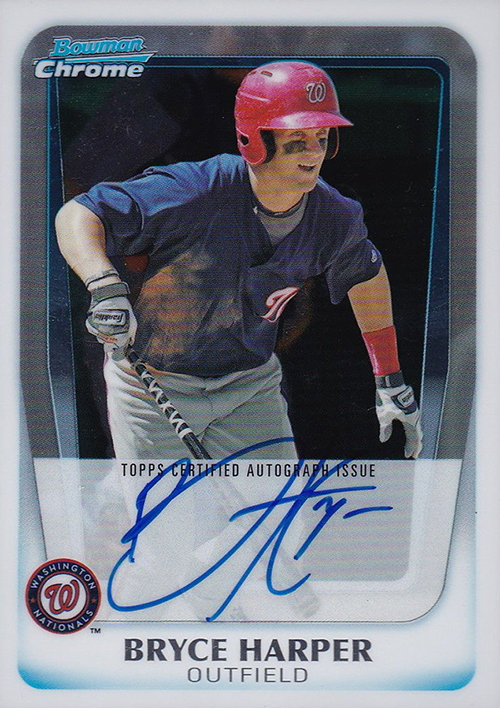 By Ryan Cracknell | Hobby Editor
We've been talking about Bryce Harper for so long that it's hard to believe that he's only 23. The 2015 National League MVP has been one of the focal points in the hobby since his first major cards came out in 2008-09 Upper Deck USA Baseball. Between last year's stellar season and the torrid start that he's gotten off to in 2016, key Bryce Harper cards are starting to hit new highs. Rising fast, could the 2011 Bowman Chrome Bryce Harper autograph, arguably his most important card that's widely available, be on track to hit $1,000?
It's certainly looking that way.
Entering the season, the 2011 Bowman Chrome Bryce Harper autograph was listed in the Beckett Baseball Card Price Guide in the $300-$500 range. This is about the point where the card has been for some time. When it first came out, it was listed for $175-$300. With expectations high for the outfielder in 2016, it recently jumped to $500-$800. And that's for raw copies.
High-grade cards are already selling regularly on eBay for four figures.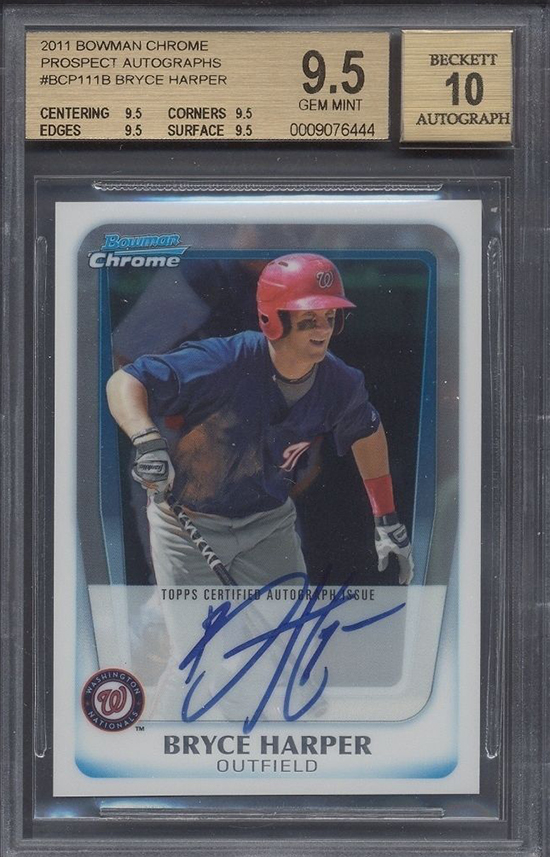 However, with Harper hitting home runs at a fast rate once again, there's a good chance that it'll be moving up again soon. Harper's "Make Baseball Fun Again" mantra seems to be resonating with a lot of baseball fans as well, which certainly adds to his overall hobby appeal. This is part of the x-factor that doesn't always come across in stats.
"It has always been a strong seller and a Hot List regular, but it always sold within range," said Brian Fleischer, Beckett Baseball Pricing Analyst, of the 2011 Bowman Chrome Harper autograph. "Expectations for Harper were so high when he came into the league in 2012 that when he didn't put up monster numbers right away, many collectors lost interest, much like what happened with Stephen Strasburg. Interest in Harper is definitely back. If he keeps playing well, the card could certainly hit that $1,000 mark."
As Harper comes into his own, a legitimate debate is starting to emerge as to who the best overall player in baseball is? For the past few years, few would argue against Mike Trout as far as overall offensive talent goes. Is it possible that Harper might be even better as he hits his prime? That remains to be seen but he's got the momentum right now, both on the field and in the hobby.
While $1,000 seems more and more likely, the next question will be whether the 2011 Bowman Chrome Bryce Harper autograph overtakes the 2009 Bowman Chrome Draft Mike Trout autograph.
What do you think? Will this be a $1,000 card soon? Would you rather have Bryce Harper or Mike Trout's first Bowman Chrome autograph?
Comments? Questions? Contact Ryan Cracknell on Twitter @tradercracks.