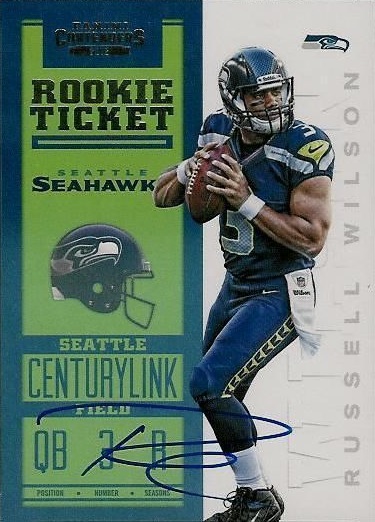 By Susan Lulgjuraj | Beckett Football Editor
The Seattle Seahawks look like the best team in the NFC after a convincing 34-7 win over the New Orleans Saints Monday night.
Russell Wilson has been tremendous this season with 22 touchdowns and just six interceptions in 12 games. On Monday, he completed 22-of-30 passes for three TDs and no picks.
Seattle's 11-1 record has fans hopeful for a long playoff run … maybe even a trip to New Jersey for Super Bowl XLVIII. Meanwhile, collectors simply want to know when they will receive their long-awaited Wilson autograph cards.
Wilson has been one of the top players out a stacked 2012 football class. Collectors were able to pull his autograph cards in early products, but many mid- and late-season products contained redemptions for the Seattle quarterback's signature.
Many of those redemptions have still yet to be filled – including one I have been waiting on for about seven months.
Redemptions are a tough part of the hobby. There is no easy way to deal with them. You pull a redemption and hope that the card will be filled soon. When you get one for a guy like Wilson, you get antsier and antsier as every great game passes.
There is a silver lining with Wilson autographs – not all his cards were redemptions last season. There are several 2012 products featuring live autographs, including Upper Deck Exquisite, Bowman Sterling, Topps Supreme, Topps Valor, Panini Momentum, Totally Certified and SP Authentic along other products. Live autographs can also be found from Panini Contenders and Topps Chrome.
Some on-card, but mostly sticker autographs.
The big redemption that collectors are waiting on is from National Treasures. The brand has emerged as one of the best for Rookie Cards. The redemptions for NT have been selling for hundreds of dollars, nearing $1,000 on some of the rare parallels.
Perhaps with Wilson so focused on football right now, we might have to wait until the offseason to get some of his cards – just as long as it happens.
Susan Lulgjuraj is an editor at Beckett Media. You can email her here with questions, comments or ideas. Follow her on Twitter here. Follow Beckett Media on Facebook and Twitter.