Is Buffy the Empire Slayer next?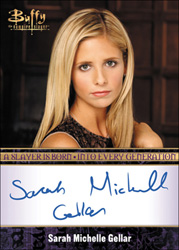 By Matt Bible | Beckett Non-Sports and Gaming Analyst | Commentary
Wooden stakes and charms vs. lightsabers and Force lightning?
Most likely not. However, it was announced yesterday that Sarah Michelle Gellar, star of the 1990s horror hit TV series Buffy the Vampire Slayer will don the headphones and mic to do voiceover work for a character on Star Wars Rebels.
She will join her husband Freddie Prinze Jr. to try and bring balance to the Force during season two of the hit animated series.
Topps Star Wars Rebels was released last week and it has been fairly successful. It's an affordable product with a foil parallel, sticker and tattoo inserts and an array of sketch cards (check out the Box Busters here). Despite Disney adding Gellar to the cast, a season two card release of Rebels is more than likely inevitable. However, Topps could bump it up a notch and start including autographs in the product. Gellar would be a perfect addition if that ends up being the case.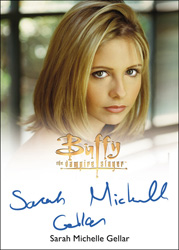 Meanwhile, collectors can get their Buffy signature fix with the upcoming Rittenhouse release, Buffy the Vampire Slayer Ultimate Collector's Set. This product arrives on March 25. It contains nine retro-looking stickers of the cast and one of two limited autographed cards of Gellar. There will also be sketch cards featuring artists such as Rhiannon Owens and Javier Gonzalez.

Matt Bible is the non-sports and gaming analyst for Beckett Media. Have a comment, question or idea? Send an email to him at mbible@beckett.com.