Introducing Beckett SuperSeller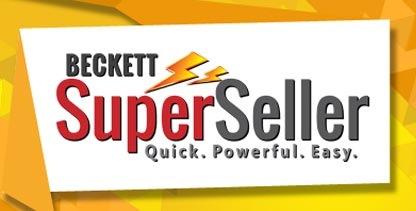 Beckett Media is proud to announce the launch of Beckett SuperSeller – an industry-leading online tool that allows you to easily list cards on eBay at a fixed price, using Beckett's online Organize tool. For as low as 10 cents per listing, you can begin using the service, or purchase a monthly package based on your individual listing needs. Included with each listing is a pre-built title, a custom description using attributes and data from the Beckett database, plus access to the Beckett stock photo system. Each listing can be customized with one user-uploaded photo.
Monthly packages are available starting at $24.99/month, which includes 500 FREE eBay fixed price listings. Need more listing power? Then consider the Beckett SuperSeller Gold package, which includes 5,000 FREE eBay fixed-price listings per month. And because of our unique relationship with eBay, we can help users with requests to raise their listing limits on eBay when using Beckett SuperSeller. During the checkout process to purchase SuperSeller, you will be asked to fill out some information about yourself that will be shared with eBay. You can start listing immediately, and any expanded listing limits can be approved in just a few days.
For more information on Beckett SuperSeller or to purchase a listing package, go to www.beckett.com/super-seller 
For questions on Beckett SuperSeller, contact Bill Sutherland at superseller@beckett.com.